Originally Posted on SJB Supercars - http://www.sjbsupercars.com/single-post/2016/03/14/Juan-Pablo-Montoya-Wins-St-Petersburg-IndyCar-Season-Opener
March 14, 2016 | Sean Smith
The first race of the 2016 Verizon IndyCar Series saw double Indy 500 Champion and 2015 runner up Juan Pablo Montoya make a perfect start to the new season. Sean Smith reports.
After months of waiting, the first race of the IndyCar season finally began last night around the city streets of St. Petersburg – Florida. The day began with the shocking news that 2014 Champion, Pole Position holder and race favourite Will Power pull out of the race before it began following a concussion sustained on Friday. After missing morning practise, the Australian decided he was unfit to drive and Oriel Servia stepped in to the #12 Penske Chevrolet. With Power's demise; Penske teammates Simon Pagenaud, Juan Pablo Montoya and Helio Castroneves all moved up to be the front 3 drivers starting the race after the team's dominance in qualifying.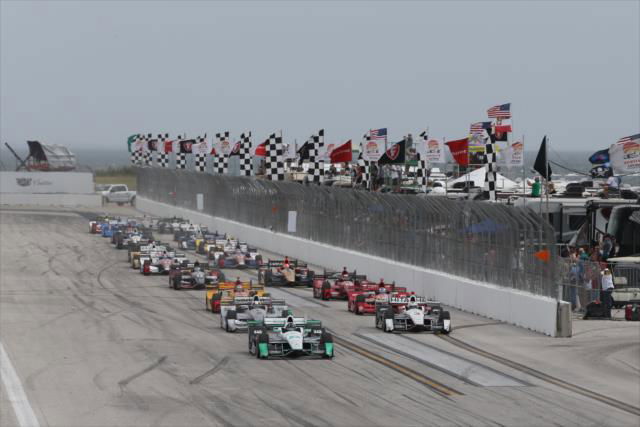 The flag dropped for the beginning of the season and the 22 car field of 700+bhp Dallara Hondas and Chevrolets roared down to turn 1. All cars and drivers got through without any spins or major collisions, but as the cars completed lap 1 it became clear that some cars had been in squabbles as James Hinchcliffe, Takuma Sato and Josef Newgarden all pulled into pit lane for punctures and minor repairs. Back up front Simon Pagenaud led the field from Castroneves and pulled a small lead. That became a lot larger a lead when Helio began to come into tyre troubles and fall back into the clutches of firstly Montoya, then 2015 IndyCar champion Scott Dixon. Castroneves eventually pulled into the pits releasing the field but just behind his group Dale Coyne Racing had already pulled in drivers Conor Daly and Luca Filippi who were setting blistering lap times. When those ahead barring the top 3 pulled into the pits the pair jumped all the way from their starting positions in the high teens to 4th and 6th. Filippi then pulled off an excellent move on Andretti Autosport's Ryan Hunter-Raey for 5th, the Italian driver had his wing endplate taken off though as the 2013 IndyCar champion pulled an aggressive blocking maneuver across him.
The first caution period came out when Hunter-Raey eventually got back past Filippi, RHR's teammate Marco Andretti tried to dive for a gap that was not there to follow through and instead got span out and stalled his #27 Honda. When the pit lane was opened a lot of drivers dived in to change tyres and add fuel, but on the restart Conor Daly lead the field back to green. He held off Juan Pablo Montoya into the first few corners but behind the was a huge 10 car pileup caused by Andretti Autosport's Carlos Munoz hitting Rahal Letterman Lannigan's Graham Rahal. All cars eventually got back going and headed back to the pits for little more than new wings and tyres.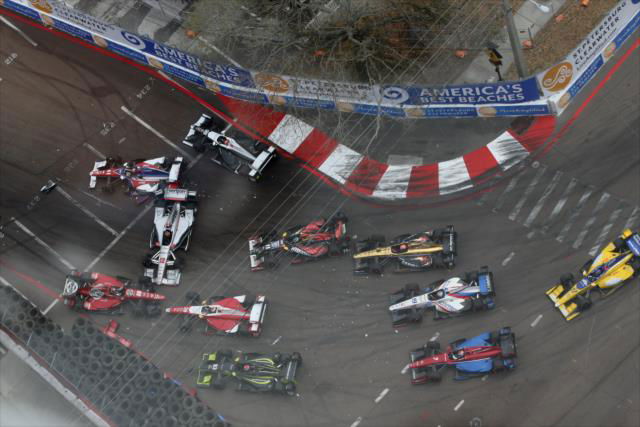 On the second restart Juan Pablo Montoya finally got past Conor Daly for the lead but Conor followed closely until he had to stop for fuel. Team Penske used this opportunity to execute a perfect trio of stops for Montoya, Pagenaud and Castroneves to make it a Penske 1-2-3 after the pit cycle.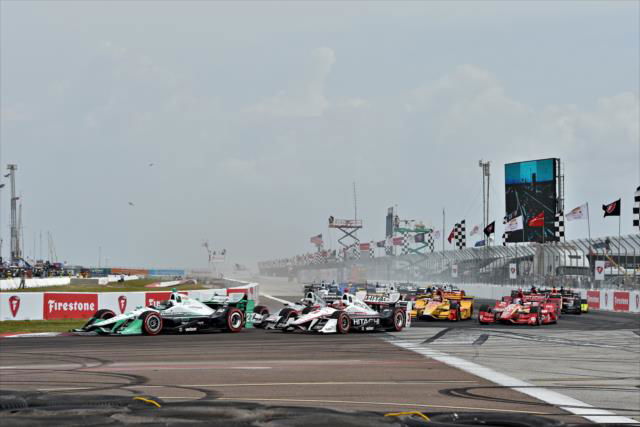 Although Penske may have been having good pit stops, their chief rivals at Chip Ganassi Racing were not. All 3 of their 2015 drivers Scott Dixon, Tony Kannaan and Charlie Kimball all had elongated stops due to the crews having to remove debris from their side pods. No other team had this problem which is odd as the CGR cars shouldn't be any different to all the other Chevrolet vehicles, including Penske. It remains to be seen what caused this issue to happen.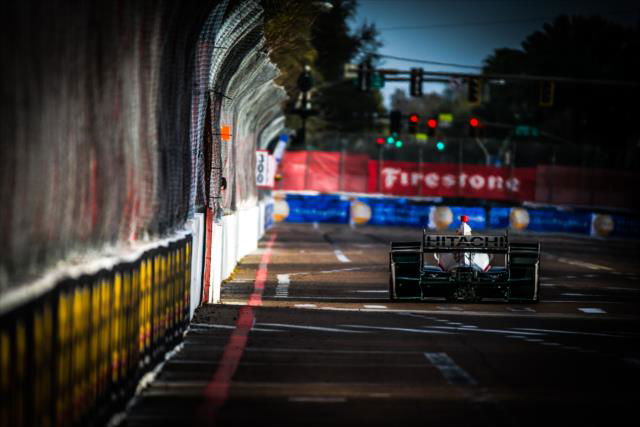 The race entered its closing stages with Montoya and Pagenaud cutting through the back markers, Juan was complaining on the radio about steering and brake problems in the car but he seemed to be on top of them as they never materialised into an obvious problem on track. Behind the top 2, Hunter-Raey pulled off a good overtake on Helio Castroneves to break the Penske and Chevrolet 1-2-3, he was too far back to get to the top 2 but he showed the Honda cars are in a much better a position than they were a year ago. He was backed up by Russian driver Mikhail Aleshin who spent the rest of the race hounding Castroneves; he however was unable to pass the Brazilian.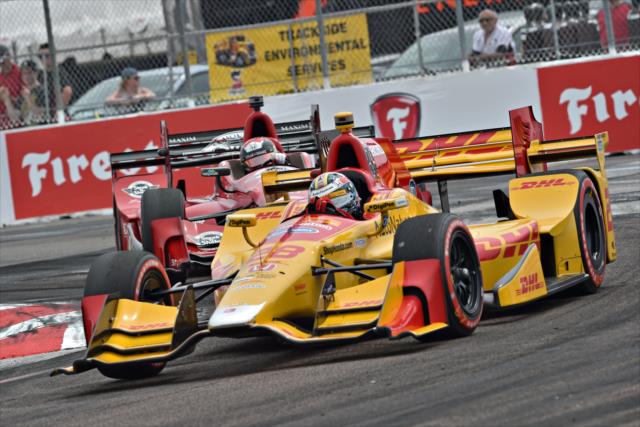 Juan Pablo Montoya held off Simon Pagenaud to take the win in St. Petersburg just as he did in 2015. RHR was 3rd ahead of Castroneves and Aleshin. Takuma Sato recovered to 6th ahead of Scott Dixon, Carlos Munoz, Tony Kanaan and Charlie Kimball rounding out the top 10.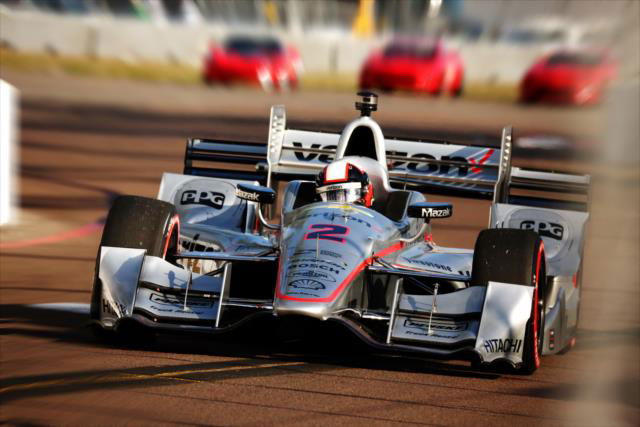 Ex-Formula 1 drivers Max Chilton and Alexander Rossi were quiet on their IndyCar debuts, generally running at the back unless others got into trouble but finished respectably with Rossi 12th and Chilton 17th. There were majorly disappointing results for birthday boy Marco Andretti who finished 15th, Graham Rahal in 16th, James Hinchcliffe in 19th, Luca Filippi in 20th and Josef Newgarden who was the only retirement in 22nd. Will Power's replacement Oriel Servia had a clean race aside from being hit in the 10 car pileup and finished 18th.
The race overall was much more entertaining than the 2015 event as overtaking was actually happening on track and there weren't yellow flag periods every other lap to clean up debris from errant winglets. The racing was close and the added power from the Push to Pass boost which the drivers get 10 of per race definitely made overtaking closer and more achievable without the ease that F1 get from their DRS system. It implies that the season could live up to its billing of being one of the closest there's ever been in IndyCar's 100 year history.
What did you think of the race, do you think it will be Montoya's year or will Will Power come back and crush the field like he was looking to do up until his pre-race retirement? Let us know via Facebook, search SJB Supercars and Twitter @SJBSupercars, and also follow us on Instagram.
(Images courtesy of indycar.com – Please click on the images for the original source.)