Part 2 of the Stelvio Automotive F1 Preview takes a look at all the new cars for the 2017 season and how they've shaped up in the first week of testing at Barcelona with the Australian GP is only 3 weeks away.
By Sean Smith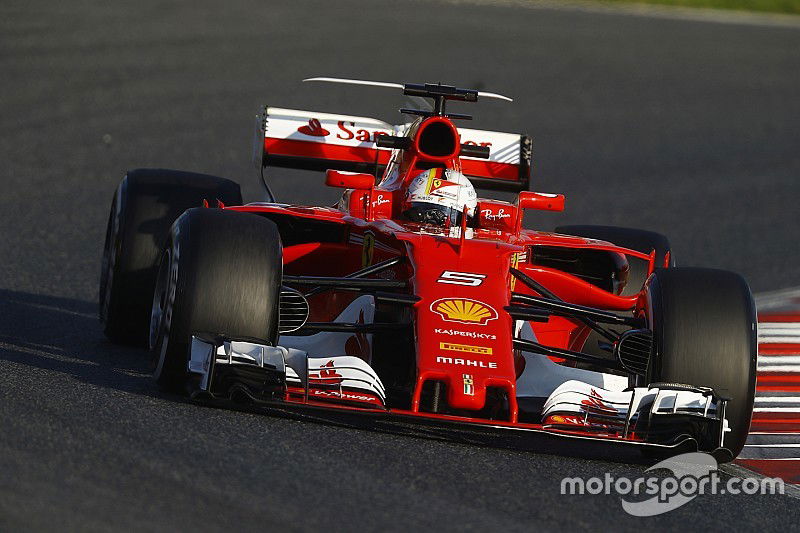 Last week was F1 launch season as one by one the teams showed off their winter creations to the baying crowds, keen in anticipation of the new designs, new regulations and new driver line ups. Williams were so embroiled with the fun they showed their 'new' car twice (and it still looks the same). In this article we'll go team by team taking a look at their cars, line-ups and performance this week and see if there are any indications of the new season's pecking order.
Be warned, there are some disturbing (Force India) and some almost pornographic (Toro Rosso) images in this article so viewer discretion is advised.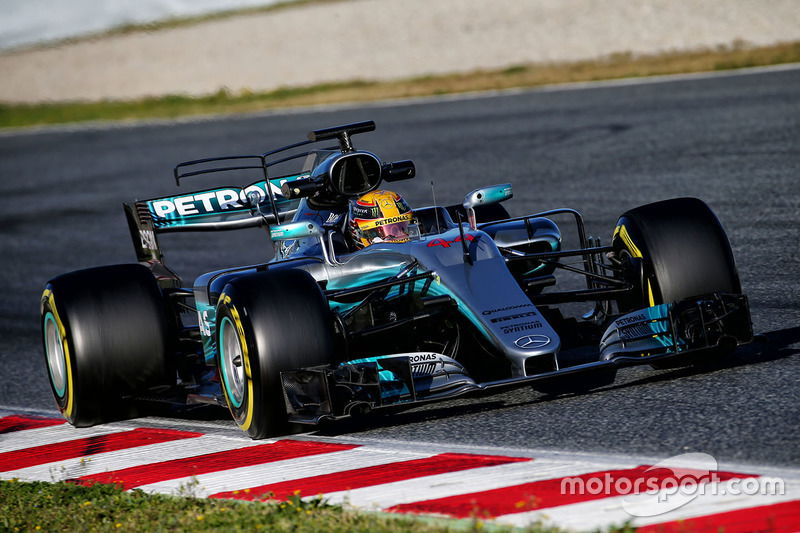 So let us start with the Champions, the team that blew the field away during the season then caused havoc in the driver market as soon as they were finished, of course this can only be Mercedes-Benz AMG. The German's new car comes in the form of the "F1 W08 EQ Power+" but we'll call it the W08 like the rest of the world. The new car is a disappointment on first impressions aesthetically, it looks like a photoshop stretched heavy hangover of the 2016 car with a new rear wing and T-wing engine cover. But the W08 is undoubtedly a piece of art on the track in its performance. It has blitzed the field in mileage from the off and the drivers have spent most of the week on top of the timing screens barring today where they had an electrical fault for a couple of hours, missing out on wet track running.
Lewis Hamilton and Valtteri Bottas are the 2017 drivers after 2016 World Champion Nico Rosberg decided to retire 6 days after he won the title in Abu Dhabi. This lead to a messy flurry of rumour, meetings, guesswork from the media, then eventually Bottas joining from Williams in the New Year. Bottas has been reported as showing more of a struggle with the new car, he's been quick but messy, often running wide and making small errors as he adjusts to the new environment. Hamilton by comparison seems comfortable in the car and is the easy favourite for the title with odds of about 5/6 compared to Bottas at 4/1, the second favourite.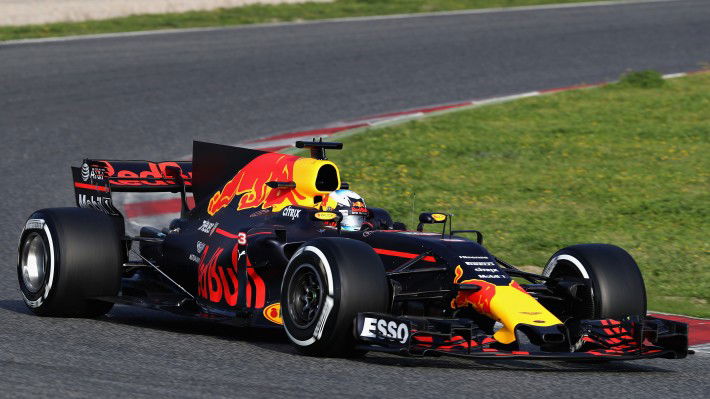 The Austrian drinks company goes into 2017 as many people's favourites as F1 goes back into a new Aero rules phase which RBR were so famed for doing well at before the 2014 engines came in. The RB13 looks more or less the same as its predecessor with a funny disjointed nose cone which now has a hole in it for venting somewhere down the chassis. The car has not been incredible this week on the track with issues on Monday and Tuesday and unimpressive pace relative to Mercedes and Ferrari. The car is aesthetically basic compared to the more complicated aero machines like the Renault and even areas of the Mercedes so expect the car to change in the second test and in Australia.
Red Bull's drivers are Daniel Ricciardo and Max Verstappen as it was for about 3/4 of last year after they dropped Daniil Kvyat to Toro Rosso. Due to the slightly unimpressive nature of the car this week we haven't heard too much from the drivers but equally they haven't been lambasting the RB13 so it's possible they might be sandbagging slightly, we'll see in Melbourne for sure. The drivers are the closest on odds out of the front runners with Verstappen at 9/2 and Ricciardo at 6/1 and if the team are hiding anything expect those odds to drop off a cliff if they get pole or win in Aus.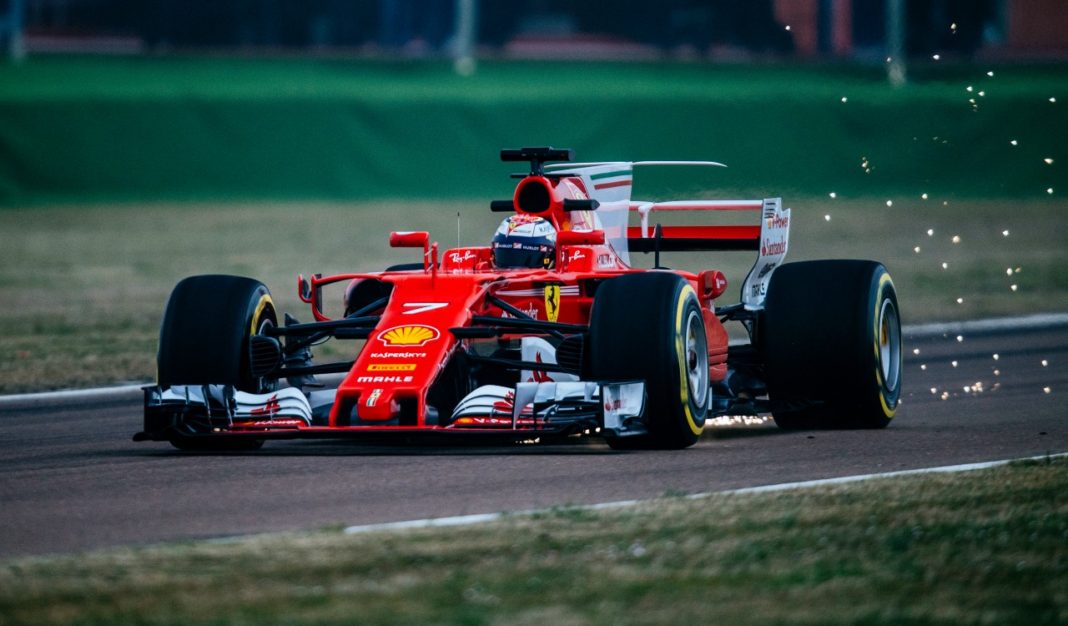 In many ways Ferrari have been the big surprises of testing. The new car, the SF70H, looks even more the same as last year than the Mercedes aside from the mandated changes and shark fin. It's quite ugly on the nose which is a horrible remnant of last year which has stayed but other than that it's clear the car is nothing like its predecessor on track. Unlike the SF16-H which was slow, uninspiring to drive, gave the drivers little feedback and generally sucked, the new car has been fighting Mercedes for to spot on the time sheets and all in its presence have praised the way it either drives or appears from the trackside.
Sebastian Vettel and Kimi Räikkönen stay as the drivers for this season and with Ferrari now having some actual talent in the wings with 3rd driver and GP2 runner up Antonio Giovinazzi you can be almost certain this will be the last year for the flying fin. Both drivers have as said been up there in the times and done respectable mileage, the race pace is yet to be truly seen but at the moment you'd be a fool to write them off for the first race in Australia. Sebastian Vettel's odds have plummeted from 20/1 on Monday morning to only 9/1 on Thursday lunchtime whilst Kimi remains at about 25/1 but his price is also shortening.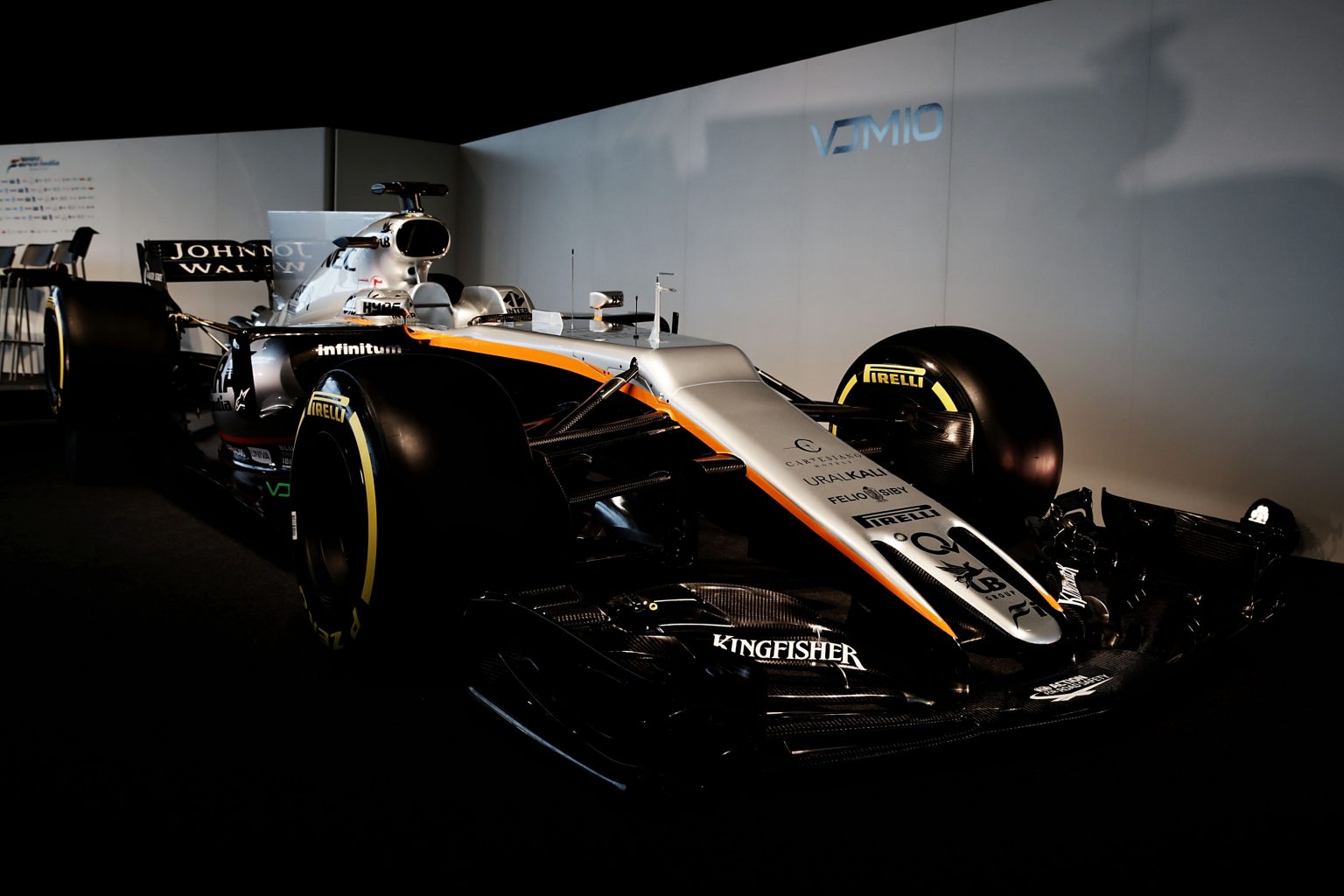 Force India scored a highly commendable and impressive result of 4th last year beating Williams comfortably in their fight. This year marks the teams 10th season and the VJM10 carries the name to prove it. The car though is a mongrel to look at. It's got back it's what polite individuals call "Anteater" or "Fork" nosecone but my friends call something else more phallic. It's also got a step by the suspension which I liked on the old 2012-13 cars but not on this. A plain silver shark fin which looks out of place generally equates to the car not being a looker whatsoever, especially a shame as the VJM09 was so pretty with the cavity nose. The new car though is doing the business on track, generally around 4th place where they want to be but Force India are hoping to challenge the top 3.
Sergio Perez stays with the team despite rumours about him going to Ferrari last Autumn and he's joined by Esteban Ocon, formally of Manor. Ocon will have to prove his worth quickly against Perez who is known for being quick and consistent; he bested Nico Hulkenburg for the last two years and will still be on Ferrari's radar for next year, if the Frenchman can beat him he will cement a career for himself after a good but not great stint at Manor. The team don't really have a chance at the championship with their limited resources but for what it's worth Perez is 500/1, high in my opinion and Ocon 750/1.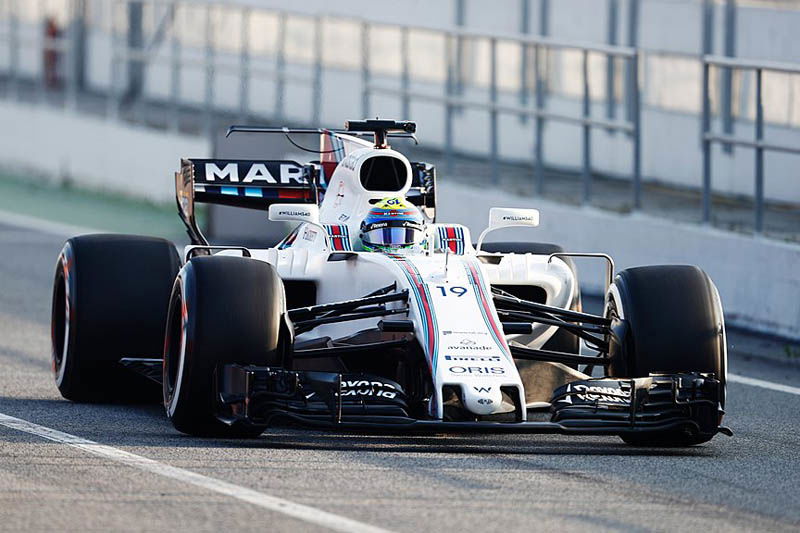 Williams had a horrible year in 2016. The car was lacking in speed and development and as such they were punished finishing in 5th after managing 3rd in the last two campaigns. As I previewed last time Williams have made few aesthetical changes this year on the car, the FW40, although since those first images they have added a proper shark fin which I was very happy about, the car otherwise is as before to look at.
The drivers are Felipe Massa and Lance Stroll and while Felipe was up there around P3 on Monday showing good speed and consistency, Stroll has shown his inexperience. On Tuesday he span the car after only 12 laps which due to damage forced him to miss the rest of the day as repairs were made. On Wednesday however he went a step further, crashing heavily towards the end of play after driving slowly all day at the bottom of the timing screens. The damage has meant that Williams have had to pull out of Thursday's test day losing Massa's second day of running. Here I'll repeat what I've said since Stroll was hired which is he should have done the junior formulae of GP2 or Formula V8. Coming from F3 which has 200bhp and barely any aero gives you no idea of what an F1 car producing almost 5 times more power will be like. It's ridiculous that he's here, good thing his Dad has deep pockets to pay for his son's crashes. Massa is 250/1 and Stroll 750/1 as Williams also has no chance at the title.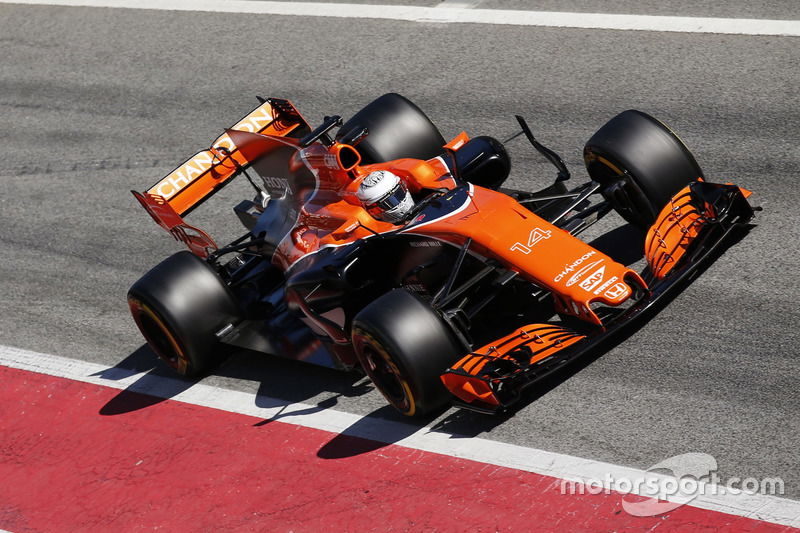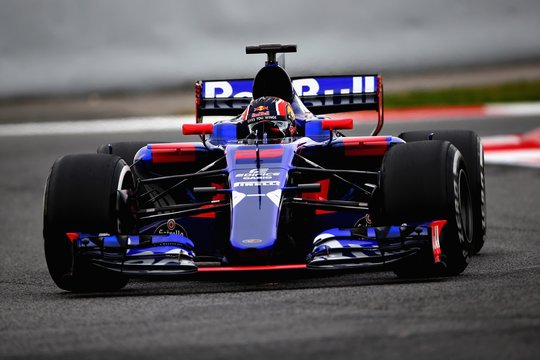 AWWWWWW THE NEW STR-12 IS SO BEAUTIFUL.
What more needs to be said just look at it.
Okay fine, the new car has been a stunner but less of a runner so far in testing. It's been praised by its drivers but it's been quite unreliable and has been nowhere near the sharp end of the timing sheet. STR have the new for 2017 Renault power unit like the works team and Red Bull but so far it hasn't been smooth. They do say that good looking cars win though so my pound is definitely going on them. Not quite the 2000/1 I had for Italy to win the Six Nations this year but Carlos Sainz is 250/1 and Daniil Kvyat is 750/1, an unfair difference in my opinion as I rate Kvyat to beat Sainz over the season to prove himself after the battering that was his 2016.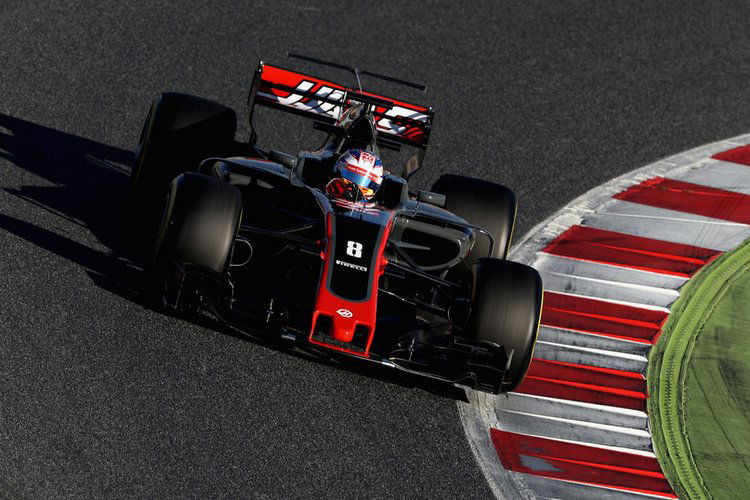 'The dream start to an F1 campaign' is the easy way to sum up Haas's 2016 season with a 6th in Australia and a 5th in Bahrain along with another 3 points finishes through the season for Romain Grosjean putting him a respectable 13th in the Championship and Haas 8th. This year Haas has made the VF-17, a much uglier but probably much faster version of the beautiful Dallara built VF-16 from 2016. The car has fared really well this week fighting for top 4 honours fairly often and been quite reliable.
The driver pairing is Romain Grosjean and Kevin Magnussen from Renault. Both drivers are 500/1 which is fair but if the Haas team can repeat what they did last year early on and actually develop the car which they didn't do at all in 2016 and remove the brake issues they had they could be a real contender with the Williams, McLarens, Renaults, STRs (hopefully) and Force Indias for p4 in the Championship.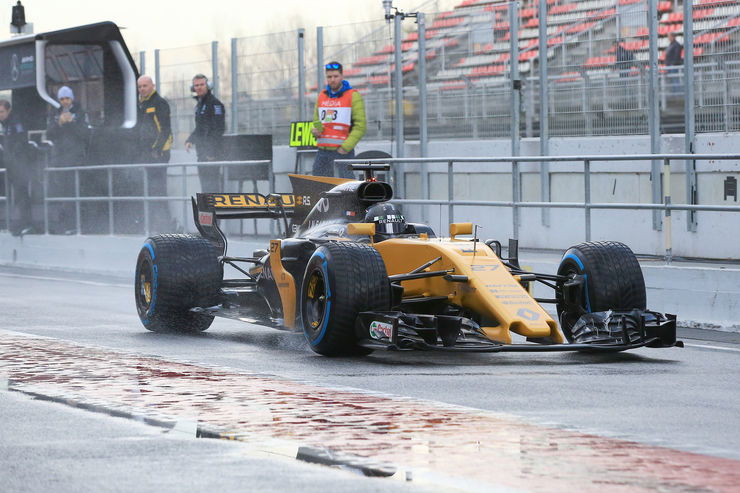 Vive La France, or at least Enstone – Oxfordshire. Renault, previously Lotus, previously Renault, previously Benetton had a nightmare of a comeback last year. The R.S.16 was slow albeit good looking and only scored a puny 8 points; at one point in the Brazilian GP it looked like they might be overtaken for 9th by Sauber. The new car, the R.S.17, is at least a looker for those who like their F1 cars mad with angles and aerodynamic things, which I do. Its faired okay in testing despite the FIA making them change their rear wing, been running solidly if not too quickly, probably a mid-field car which is a bit disappointing but with their budget they should be fighting in the top 10 consistently.
Renault have Jolyon Palmer who needs to prove himself after a pretty poor 2016 and new signing Nico Hulkenburg from Force India who some say needs to do well to give him any chance of a long term future in the sport. The Hulk is 300/1 and Palmer 500/1.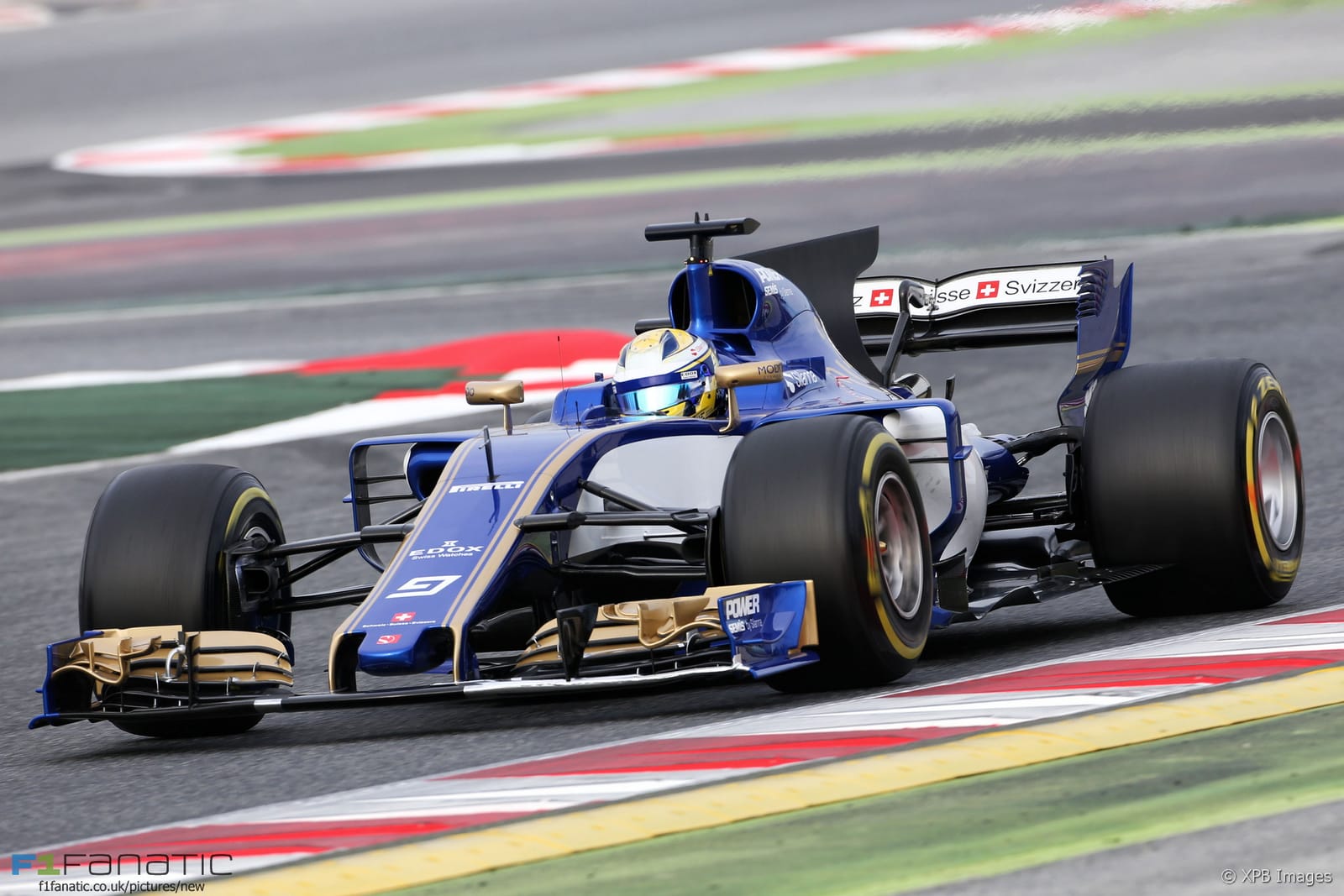 Lastly is the 25th F1 anniversary celebrating Sauber team, and how close they got to not making it. Felipe Nasr's 2 point in Brazil saved the team from bankruptcy so what does team principle Monisha Kaltenborn do to say thank you? Fires him. I hate this woman. She's taken Sauber from a good midfield runner challenging for podiums on occasion to back of the grid runts fighting for survival; I hope she gets sacked very soon.
The new Sauber C36 was going to be the best looking car on the grid before the STR showed up and it's been okay in testing this week running quite reliably on the 2016 Ferrari engine but looks to be nearer the back than hoped for. Hopefully it can develop to fight in the midfield.
The drivers are Marcus Ericsson who stays thanks to his Swedish investors and ex-Manor driver Pascal Wehrlein or at least that's what the official card says. Wehrlein had a crash at the Race of Champions and hurt his back in the incident which has lead Sauber to use Ferrari 3rd driver Antonio Giovinazzi this week and he's done a solid job. The Italian is also going to take part in practice sessions this year in the Sauber for Ferrari's appraisal. I personally would stick him in for Ericsson for the whole season as I don't rate the Swede at all but that won't happen due to Sauber's new owners, Longbow Finance being closely linked with Hans Rausing, Ericson's main backer. For the good of the team though I hope they're competitive this year. Wehrlein is 1500/1 and Ericsson 2000/1.
So that's it for the longest article ever on Stelvio Automotive, the F1 season starts proper in Australia on the 26th of March. Battle lines are being drawn and teams are getting ready, will it be another Mercedes domination and possibly a Hamilton walkover? Will Ferrari stage the comeback many wish for? Will Red Bull re-assert their dominance? Will STR win every race and win me loads of money?!? Probably not, either way keep up to date with Stelvio Automotive through the season.