Last week saw the 101st running of the Indy 500, America's Great Race. Stelvio Automotive rounds up the action that included crashes, infinitely more overtakes than F1 in Monaco and a surprise winner.
By Sean Smith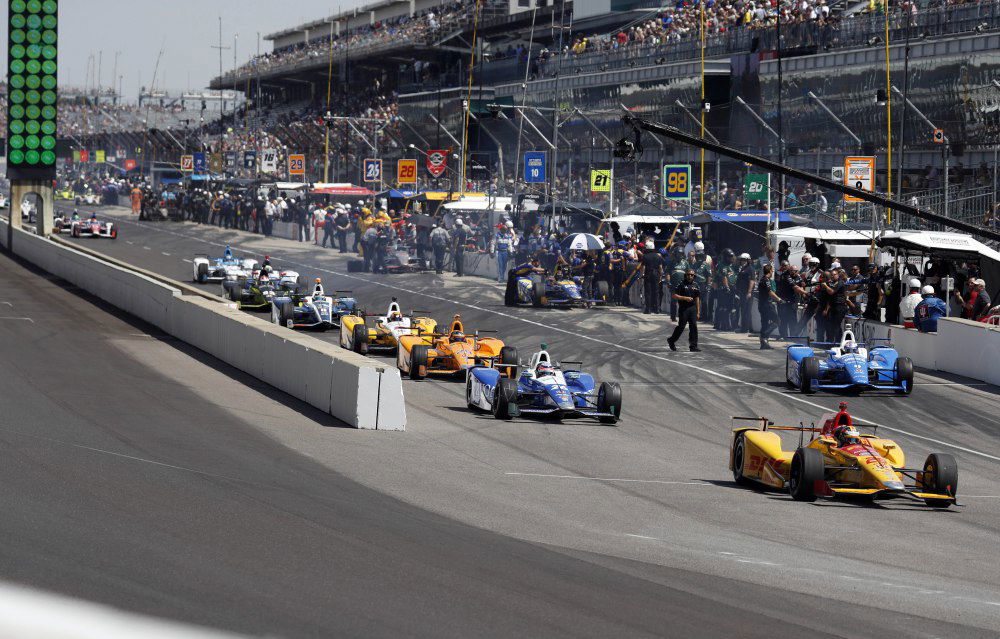 After a month off (due to a serious case of broken laptop screen) Stelvio Automotive are back at it again spamming the internet airwaves with a new article. Today we're going to see the review summary of the 2017 Indy 500.
'The Month of May' as our American cousins call it is IndyCar's party month as 300,000 people descended on the infamous 2.5 mile oval of Indy Motor Speedway, Indianapolis for short.
This year was the 101st running of the great race after last year's centenary was won in the final couple of minutes by then rookie, Alexander Rossi. This year was billed as the big fight between IndyCar's regulars and the wildcard appearance of F1 double champion, Fernando Alonso... JUST in case anyone missed that memo while watching the TV; not that you could, the BT Sport coverage was diabolical with its single minded attention on the fact Alonso was there racing. They ignored the other 32 drivers and the ongoing IndyCar Championship which was entirely missed out from the discussion, it was truly awful. (Rant over).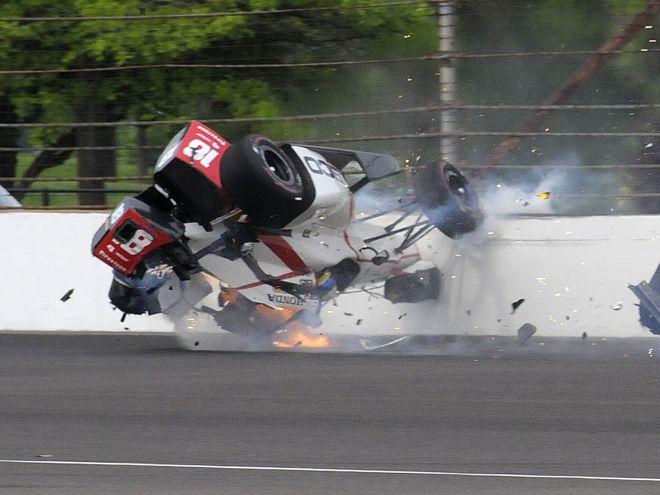 Ignoring Alonso, the qualifying session in mid-May was where the first big upset occurred; mid-way through his run which was looking good for provisional pole position, Sebastian Bourdais crashed his Dale Coyne team's Dallara Honda hard into the barrier at turn 2 (above). Bourdais was ruled out of the race with a fractured pelvis and hip but was lucky not to be seriously hurt. That left Scott Dixon, the 4 time series champion to claim Pole Position with an average speed of 232.164mph over Ed-Carpenter and defending Indy 500 champion Alexander Rossi on the front row.
The other big names were, Fernando Alonso 5th, Will Power 9th, Ryan Hunter-Reay 10th, 2016 pole sitter James Hinchcliffe 15th, Hélio Castroneves 19th and defending series champion Simon Pagenaud in 23rd. It's well known, however, that the Indy 500 can be a crapshoot and your qualifying position means almost nothing to the final standings.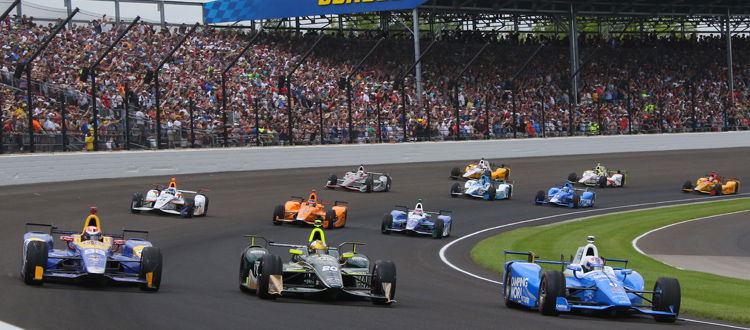 One week later and the drivers started their engines (missed by BT Sport) and began their warm up laps for what would end up being an almost 3 and a half hour race from green flag to chequered. The race was frantic as Andretti Autosport with Rossi, Alonso, Marco Andretti and Takuma Sato along with Chip Ganassi's Scott Dixon and Tony Kanaan took an early lead as Honda showed their speed advantage they'd had all month. Only Ed Carpenter and JR Hilderbrand of Ed Carpenter Racing could stay with them in the early stages for Chevrolet.
Further back Will Power who had gone from 9th to 2nd briefly was falling back to the teens and trying to keep up with Andretti's Hunter-Reay who was bridging the gap between the lead groups. The race was frantic with the Honda cars sharing the lead duties until the first round of pit-stops on lap 30ish. It's at this point that Alonso made his move to the front by passing Rossi into turn 1. The pace then instantly picked up and the Chevys of Hilderbrand and Carpenter became detached from an Andretti 1-2-3.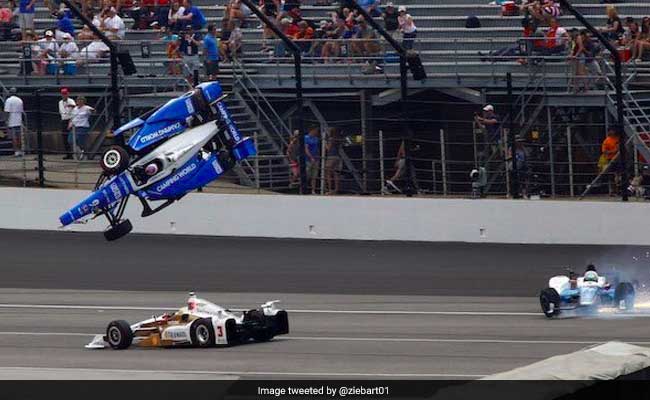 The field stretched and contracted as it always does at Indy until lap 53 when the first caution of the race, then a red flag, came out. Pole sitter Scott Dixon was involved in a colossal accident with the lapped car of Jay Howard who had hit the wall and drifted into Dixon who went flying over the top and was airborne for about 4 seconds; he landed heavily in the catch fences and just missed Castroneves who took evasive manoeuvres across the grass underneath him. The horrific crash luckily had both drivers climb out relatively unhurt with Dixon getting a precautionary cast for his foot but otherwise being okay. Howard got out the car with a bruised ego.
The red flag lasted about 20 minutes as the track marshals repaired the fence and brushed away the broken cars. The race resumed with Fernando Alonso leading from Alexander Rossi, Takuma Sato, Ed Carpenter, Ryan Hunter-Reay, JR Hilderbrand, Tony Kanaan, Marco Andretti, Graham Rahal and Simon Pagenaud in 10th.
Very quickly the Andretti cars asserted themselves as Rossi took the lead and was followed by Sato and Hunter-Reay to go with Alonso for an Andretti 1-2-3-4, ECR were still the only Chevy cars left in the top 10 as Honda's filled the top positions.
A second caution came on lap 66 for Conor Daly who crashed into turn 3 when he lost downforce from aerodynamic wash off the other cars he was with just after a 4 car wide fight down the back straight. Jack Harvey also retired when he span out trying to avoid Daly's debris.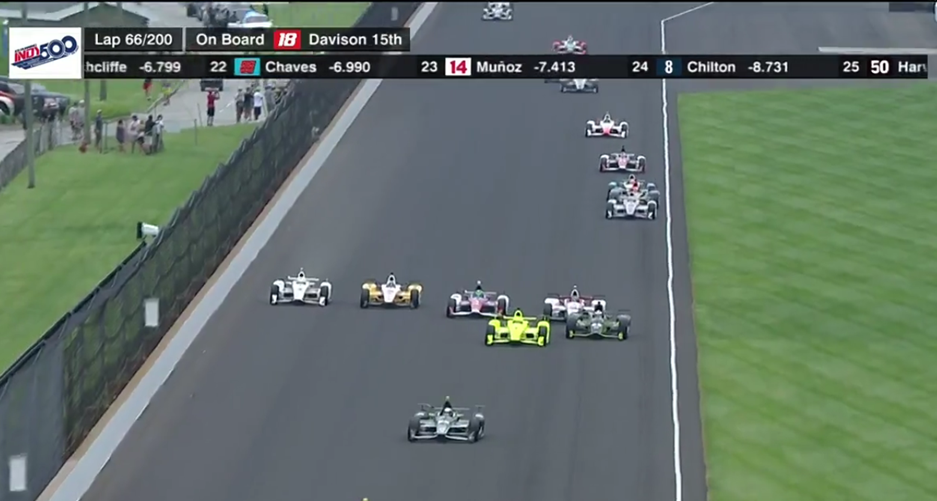 After a debris cautions not long after the Daly crash the field began to split their strategies on fuel. Will Power, Max Chilton and Hélio Castroneves all stayed out after pitting earlier than the rest of the field. Racing resumed and Chilton took the lead off Power who still wasn't happy with his car. Castroneves took the lead when Chilton pitted on lap 96 from Tony Kanaan. Then on lap 104 Hunter-Reay took the lead when Hélio pitted this gave Andretti Autosport back its 1-2-3. Those 3 pitted between laps 110-114, Hunter-Reay coming out with a 3 second lead; that was lost when Buddy Lazier crashed on lap 122. Sage Karem also retired due to a dead battery.
On lap 129 the race between the Andretti cars resumed and Alonso hit the front but on lap 136 the Honda nightmare began! The left bank of Hunter-Reay's engine blew out on the back straight; "Captain America" was out and what made it worse for Andretti Autosport was that Rossi had a terrible pit stop when his fuel rig wouldn't attach to the car and it dropped him down to 20th.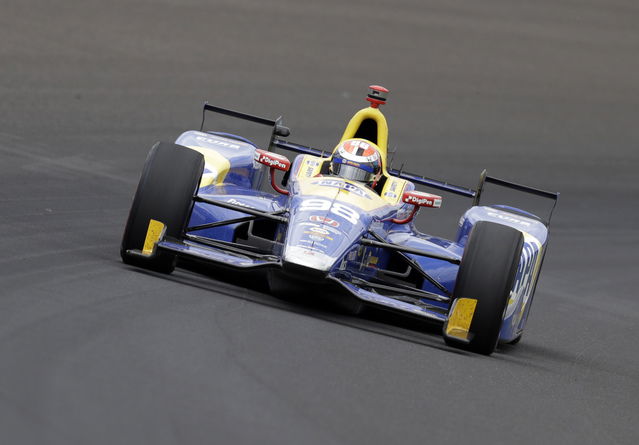 Chilton, Charlie Kimball, Hilderbrand, James Davison (subbing for Bourdais) and rookie Ed Jones all stayed out and took the lead as racing resumed; Ed Carpenter then crashed into Mikhail Aleshin ruining both their races and bringing another caution period. Graham Rahal was also ruled out of victory when he got a puncture when the field went back to green.
Max Chilton was to star through the final quarter of the race. The Brit would end up leading more laps than anyone else and would be a pivotal part at the end of the 500. He and James Davison fought for the lead for the stint before Davison began to be swamped by the fast men. Castroneves and Hilderbrand were leading the Chevy charge as all the cars turned up the wick.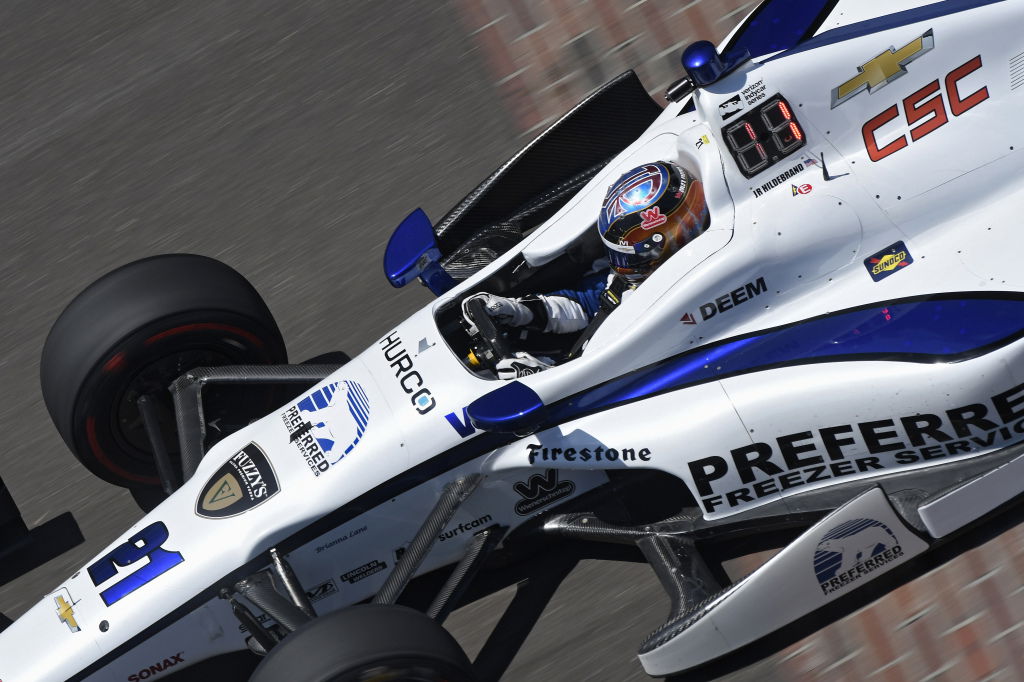 On lap 166 Kimball's Honda engine blew just like Hunter-Reay's on the back straight fighting for the lead. Zach Veach also retired at this point with a mechanical failure. The field all took their last pit stops and it looked like a straight fight for the win from here on out.
Chilton took back the lead from Ed Jones, Hélio Castroneves, James Davison, Takuma Sato, JR Hilderbrand, Tony Kanaan, Oriel Servia, Fernando Alonso and Simon Pagenaud. With 22 laps to go Sato pulled of the move of the race going round the outside of Castroneves and Ed Jones into turn 1 for 2nd place. Chilton was still ahead and behind them Servia was still 5th from a battling Alonso and Hilderbrand but just 1 lap later that was all to end. Alonso's Honda unit exploded on the main straight and he was out of the race.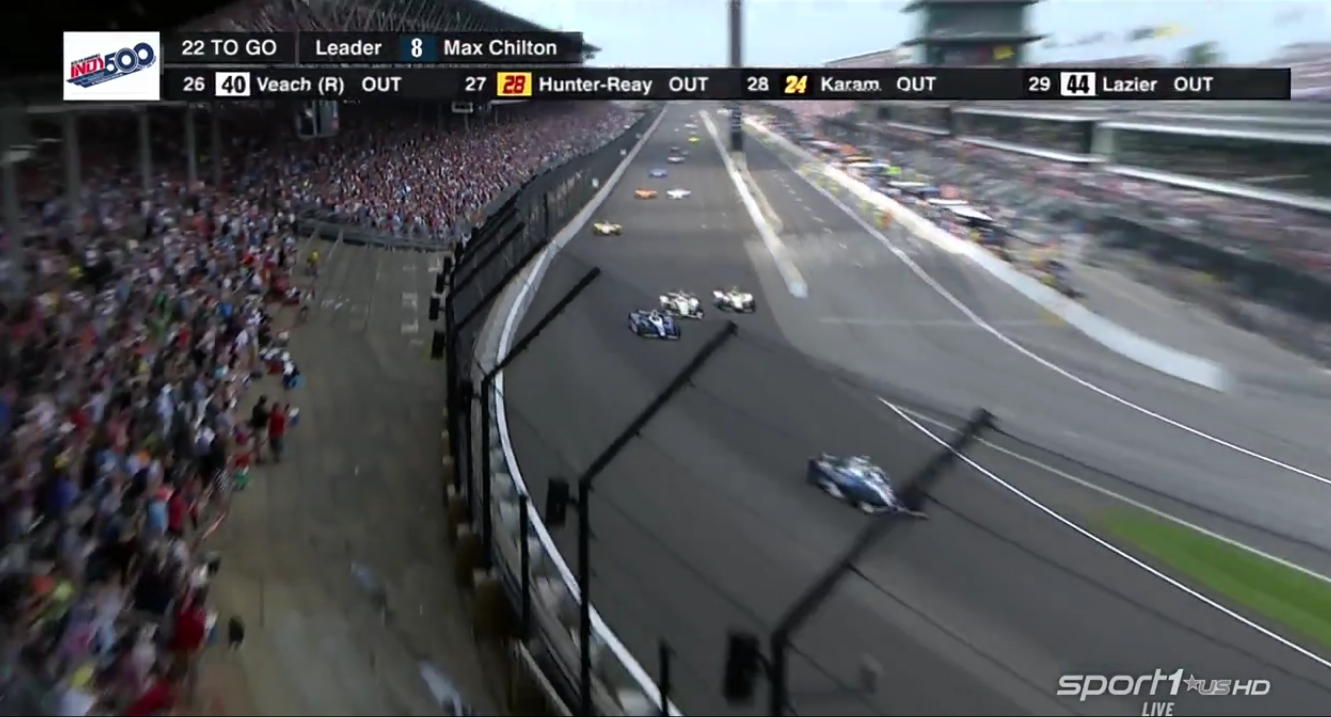 Alonso struggled once he got behind the top 5; this is to be expected as the regulars will tell you the Indy 500 only gets more aggressive and faster as the race goes on and at this stage Alonso was struggling to pass even Hilderbrand in the Chevrolet. Going fast and turning left can only get you so far and that was exactly the mantra Alonso was running through the race; in the latter half he was clearly being outdriven. That said he did a good job all jokes aside and I'd give him a solid 7 out of 10 for effort but he was never going to win.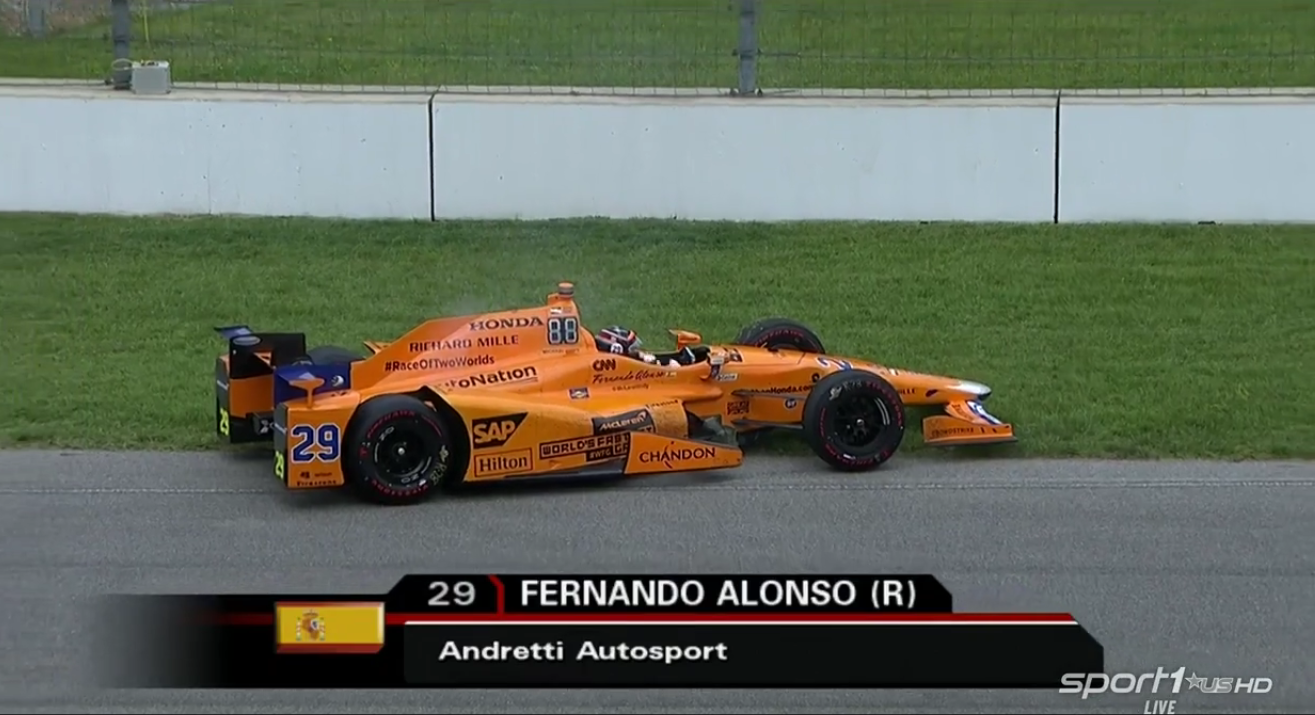 Back to the race, Chilton still lead with only 17 laps to go now from Sato and Castroneves. On the restart a pile up finally occurred at turn 2 which was started by James Davison and Oriel Servia. Servia tagged Davison as they squeezed each other and they went straight into the wall for it, the carnage then ensued as James Hinchcliffe was hit by Will Power as they took avoiding action and they also collected Josef Newgarden who was able to restart but effectively out of the race for victory.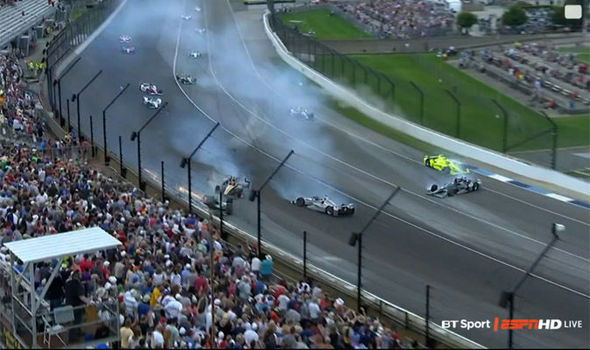 This last crash left only 19 cars left in the race and only 16 on the lead lap. Chilton, Sato, Castroneves, Jones, Kanaan, Rossi, Juan Pablo Montoya, Carlos Munoz, Andretti and Hilderbrand who suddenly fell off the pace in the final stint were the top 10. Sato tried with 10 laps to go to get the lead and failed, Castroneves executed a brave move into turn 3 later that lap on Sato and looked odds on favourite to win his 4th Indy 500.
Castroneves stayed on Chilton's gearbox for 2 laps then forced a pass on the Englishman at turn 3 for the lead. The crowd went wild as they came out of turn 4 and Sato dove under Chilton for 2nd desperate to follow Hélio. Chilton slammed the door on Ed Jones making it a straight 2 horse race for the lead between Hélio and Takuma. Sato drafted all around the lap and made his move with 5 laps to go as they came across the line.
Sato floored it for the last 5 laps, at one point doing a 220mph lap late in the stint. Castroneves was all over him but unable to pass the Honda driver in his Chevrolet powered Penske. Takuma won the Indy 500 by 0.2011s, the first ever Japanese or Asian driver to win the race, at 40 years old he is also one of the oldest winners and in his personal career it's was his first "championship" win since his F3 domination year of 2001 and only his 2nd race victory since that year.
Castroneves held onto 2nd and was very disappointed not to win but equally was praising of Sato for the victory. Ed Jones managed 3rd place as a rookie which was a great performance. Off the podium was Chilton, Kanaan, Montoya, Rossi in 7th, Andretti, Gabby Chaves, Carlos Munoz 10th, Carpenter, Rahal, Aleshin, Pagenaud 14th losing his series championship lead, Sebastian Saavedra, Hilderbrand the last man on the lead lap, Pippa Mann, Spencer Pigot and Newgarden was the last to finish.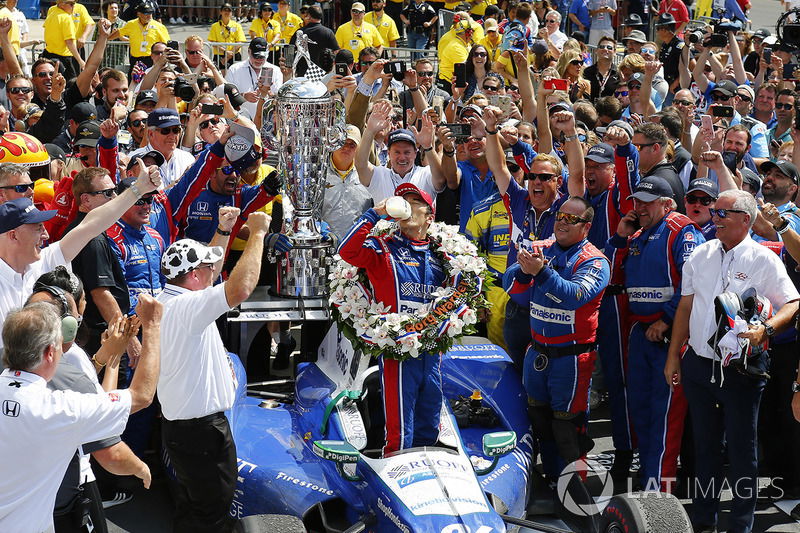 Sato completely deserved the win after a masterful race, he was fast, aggressive when he needed to be keeping in touch with the danger men of the race be it Rossi, Hunter-Reay, Alonso, Chilton or Castroneves; he was completely fearless when pressured and he was always up in the top 10 keeping himself in contention. What's more he was 14/1 so I won £2.50 from all of my bets for the race so I was delighted. I personally hope Sato can now push for the IndyCar series title but Andretti Autosport does tend to struggle against Chip Ganassi and Penske on the road courses so we'll have to see about that.
In victory lane Sato was awarded the Borg Warner trophy, only 1cm shorter than he is; he drank the milk and was hugely thankful for Honda, Andretti and all his fans for the victory, right back at you Takuma, many congratulations.