---
2018 is potentially going to be a big year for Suzuki in MotoGP. Today Stelvio Automotive takes a look at the GSX-RR and questions if it could be a long shot for 2018 or if the riders will be its downfall.
By Sean Smith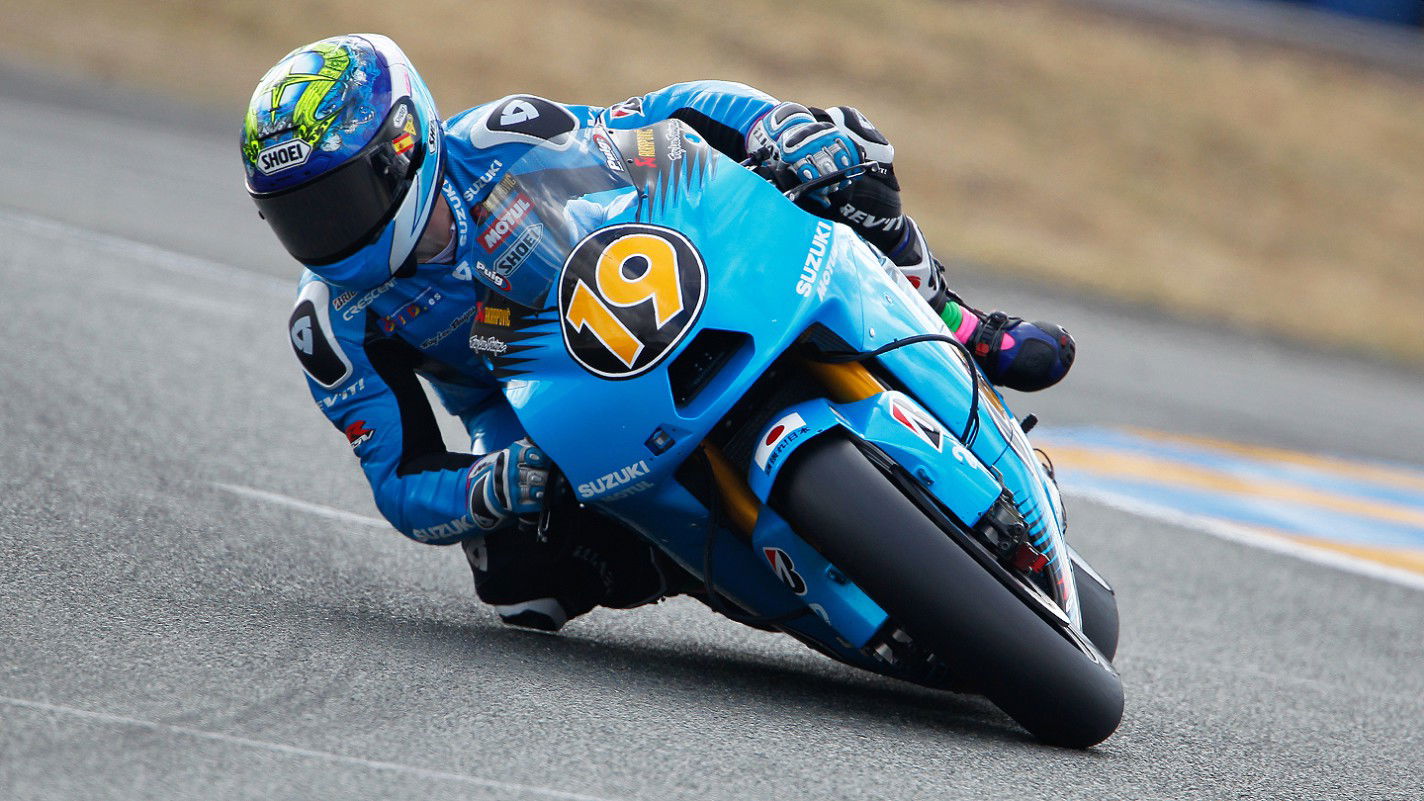 Back in MotoGP's 800cc era, I was a big fan of the Suzuki team and their young charger in the making, Álvaro Bautista, aboard the light blue GSV-R (above). The bike was down on power compared to essentially all others around it; able to beat the Kawasakis but never being able to challenge Yamaha, Honda or Ducati over a season. Suzuki eventually pulled the plug at the end of 2011 to focus on their core business and save costs against the global economic downturn.
In 2013 and 14 the team returned to the test track with the brand new, 1000cc, Suzuki Ecstar GSX-RR and undertook a colossal amount of testing to get the bike up to speed. This included a wildcard race at Valencia in 2014 where they blew at least 3 engines in 1 weekend as they stress tested everything to the limit. In 2015 they comfortably finished mid table with very few mechanical errors and showed promise for the future.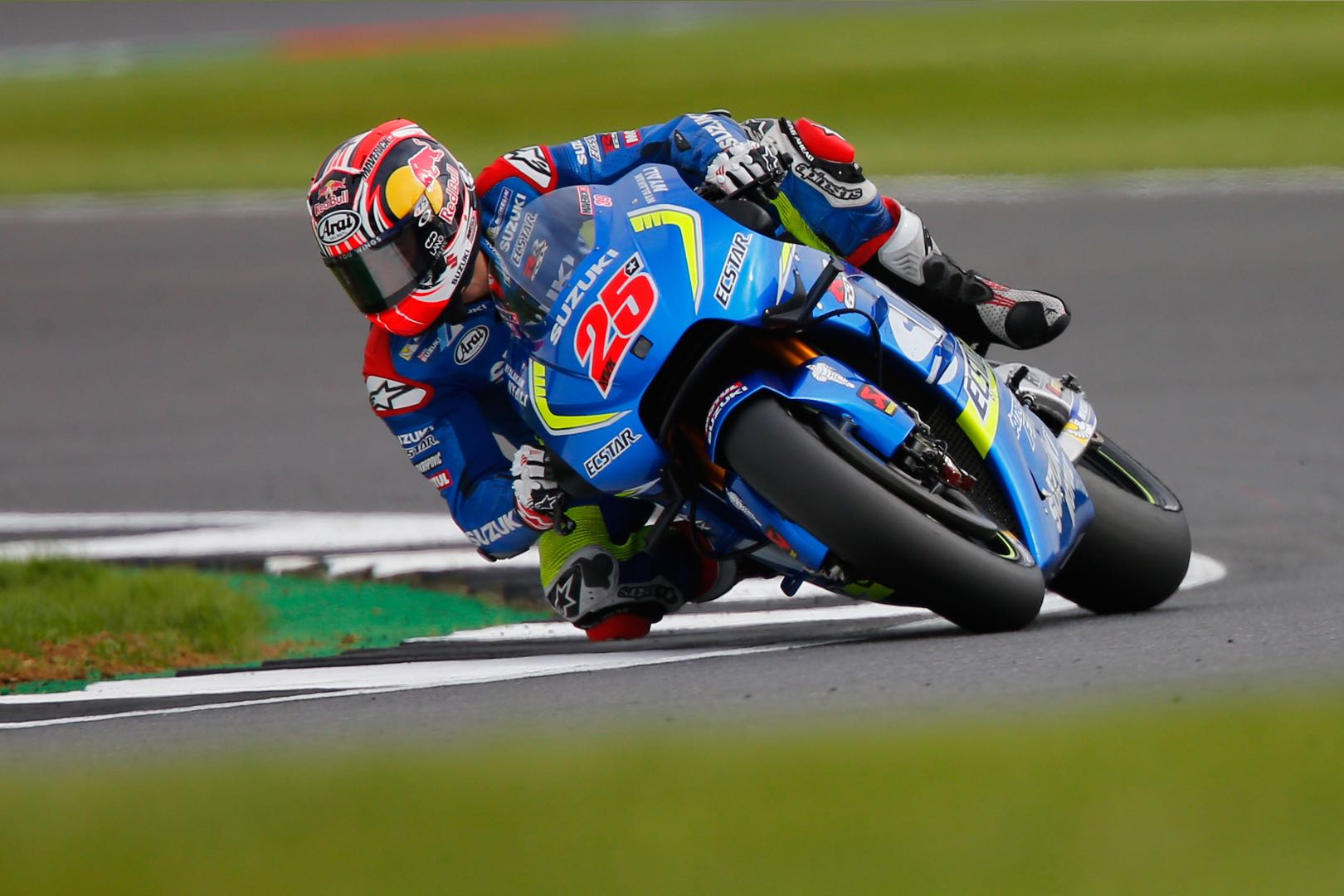 2016 soon came round and Suzuki held a particular advantage that year. Because they had not scored a podium in their return they were allowed to use MotoGP's engine concession rule which allowed them to carry out unlimited testing, make mid-season engine specification changes and use 2 extra engines through the year.
This allowed Suzuki to develop a highly competitive package. It changed Maverick Viñales's bike from a front of the mid field machine to a front runner. He scored straight top 6s in the final 7 races of the season including 3 podiums and 1 victory which vaulted him from 12th in 2015 to 4th overall in the 2016 championship.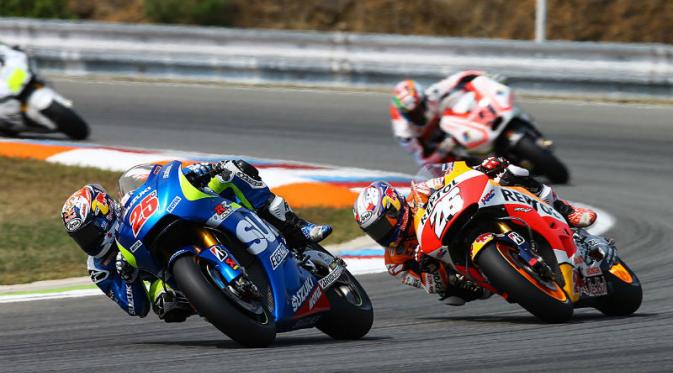 Because of Viñales's success, Suzuki then lost their privileges for 2017 and with two new riders in rookie, Alex Rins and Ducati reject, Andrea Iannone, the team took a big step back from the 208 manufacturer's points they scored in 2016 to only 100 points in 2017. The team's best race result was 4th place in Japan and Valencia, the season ending round.
This was mightily convenient for Suzuki as by staying off the rostrum, the rules allowed them to gain back all of the benefits they had in 2016 for 2018. The difference is this time they aren't starting from square one. In fact, this rule could give Suzuki a valuable ace card over their rivals in 2018. Although 210 points behind 3rd placed Ducati and 257 points behind Champions Honda, Suzuki's deficit to the top 3 is far less than the points would suggest and this could become apparent in 2018.
In 2016 Viñales was 4th on 202 points riding the GSX-RR and moved to Yamaha in 2017. As a team mate to Valentino Rossi, by and large he was as good as 'The Doctor' on the same Yamaha M1. Now, when you look again at only those last 7 races of the 2016 season, Viñales scored 102 points on the Suzuki compared to Rossi scoring 105 points on the Yamaha. The difference here is less than 3% and in MotoGP a yearly iteration of bike is very minor in its core differences. So Suzuki's drop of almost 52% in points in 1 year is at best suspicious, but with the rule break coming to them as a result it could perhaps be seen as an inspired gameplan.
You need to consider Suzuki themselves, they aren't a small company fighting 3 laviathons. Sure, they aren't as big as Yamaha or Honda but they are the 3rd biggest manufacturer domestically in Japan. They still sell tens of if not hundreds of thousands of bikes around the world every year alongside their car business and the rest of their empire. Suzuki has the budget to blow engines to make gains if they want to in 2018 with the UNLIMITED in-season testing.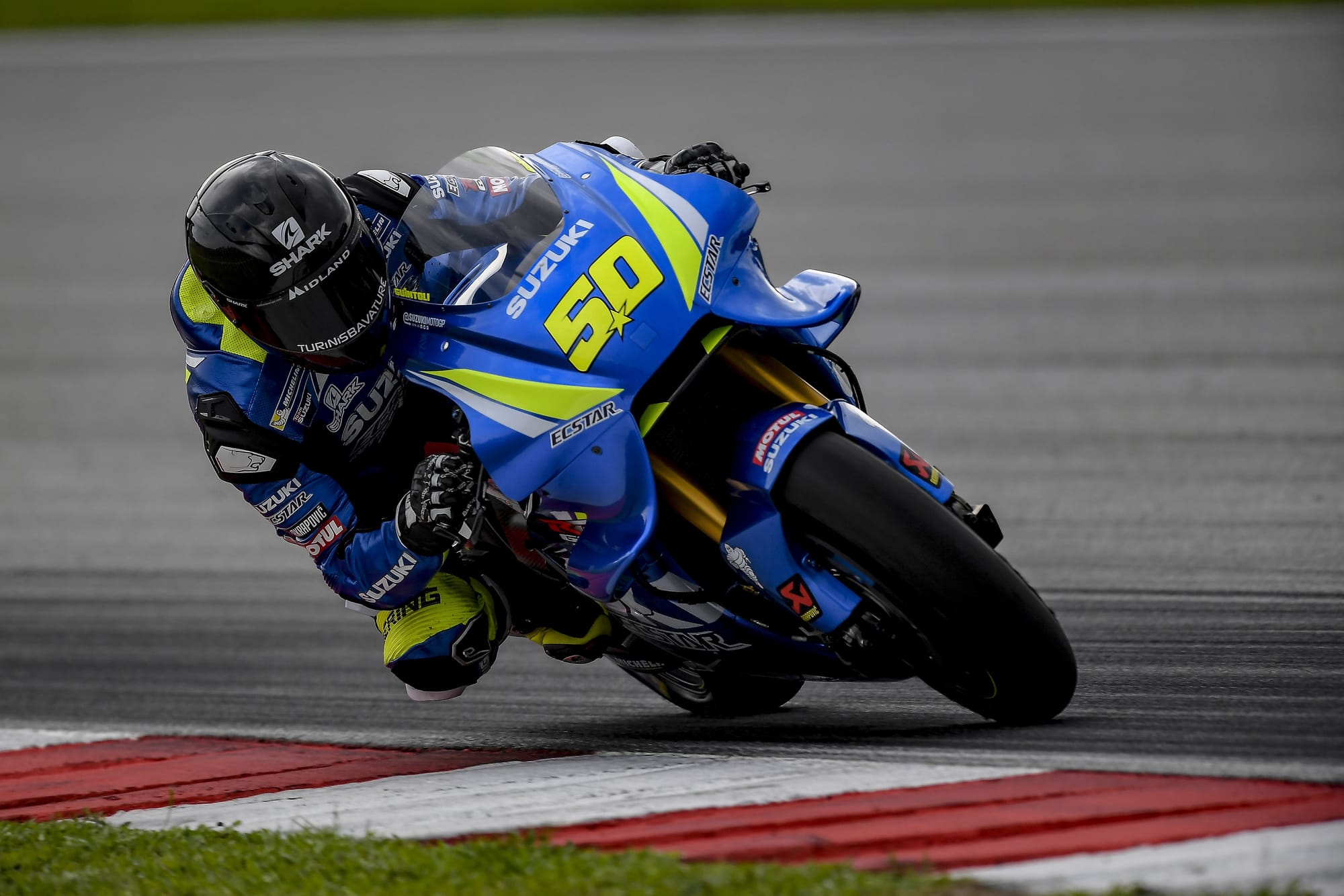 In the winter tests so far Suzuki have been there near the front (almost as if they were hiding their true potential last year). The bike has a new aero kit (above) on the front which will improve its already decent cornering speeds, plus the engine testing and development will get them closer than ever down the straights even with the drag of that aero kit. If things shake out well for them, Suzuki could have pulled a silent masterstroke of a plan and could well be a dark horse favourite for the 2018 title.
But a final stumbling block may just come down to the riders themselves on board the GSX-RR. Could Suzuki have already thrown away their chance of glory in their choice of men to take their bike to the Promised Land?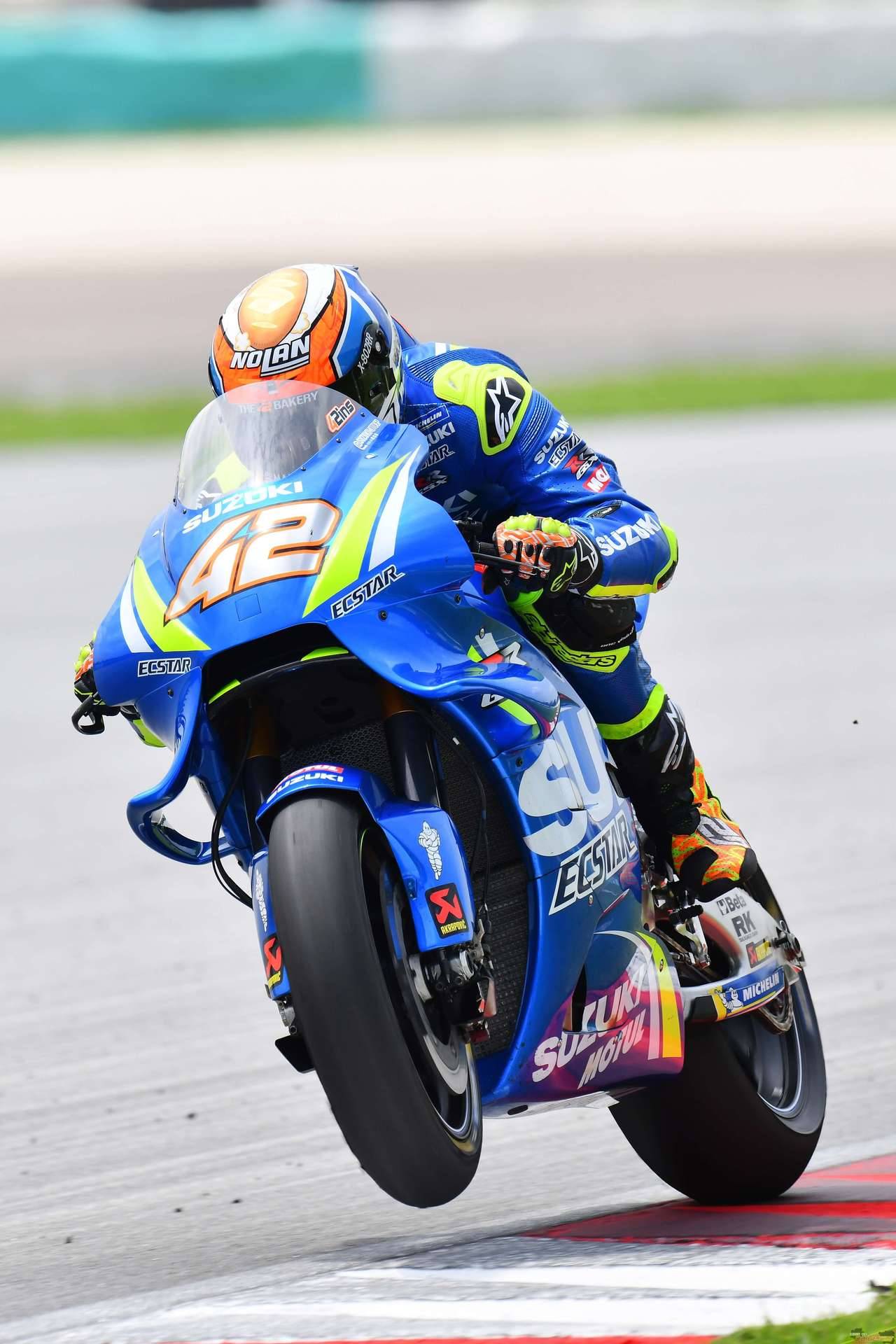 Firstly, there's Alex Rins (above), who is a hugely exciting talent and was incredibly unlucky not to be Moto2 World Champion in 2015 or 2016. As a rookie and 2nd year rider in the class he lost out to Johan Zarco who became the only ever double Moto2 champion (in his 4th and 5th year in the class). Rins has been a championship threat for the last 4 years in Moto3 and Moto2 before he made the jump to MotoGP in 2017 and even then he outshone his team mate while injured and had a quietly impressive season.
Rins' problem is he is still very young at only 22; and as many times as he's been in a championship challenge, he's never won. MotoGP is tougher and with much more inside and outside pressure from fans, media, the team, even if Rins has a championship run it'll be like nothing he would have faced before. The question will be if he is in the hunt can he convert on track, and that has to be in doubt with his past experiences.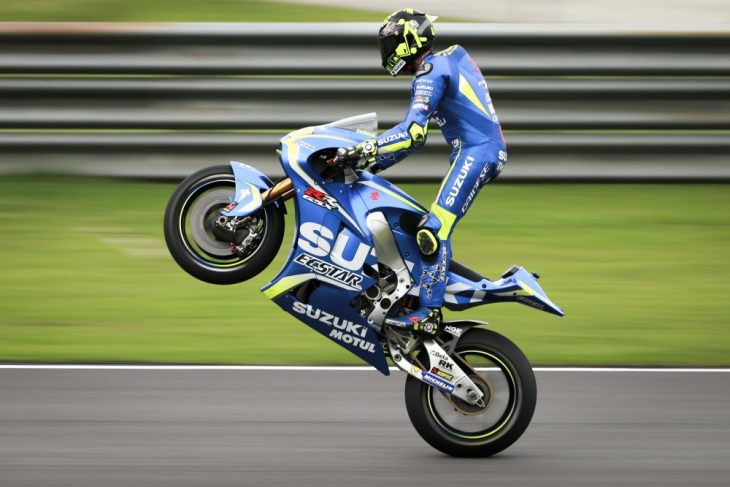 Andrea Iannone, however (above), is a completely different story. He is now an old hand on track having been in MotoGP for 5 years. He has never finished higher than 3rd at any level and has only 1 top class win in 2016. Iannone is very well known for being over aggressive and throwing away results, often taking out his team mate in the process. His problem is he was always a fast kid who, if he was able to tame his Italian flare, could have made something of himself, but has failed to do so. Iannone still gets over exuberant in the heat of a race and makes mistakes.
Worse still for Iannone is that he might not be as fast anymore as he used to be. Rins beat him repeatedly in 2017 as an often injured rookie and if Suzuki have any sense they will throw all their chips on the young Spaniard to win the championship for them over the rather more inconsistent Italian. Iannone showed in 2016 he can't be trusted to convert opportunities at the front of the race and, in my opinion, if he doesn't show a vast improvement in the early part of this year he could be out the door early.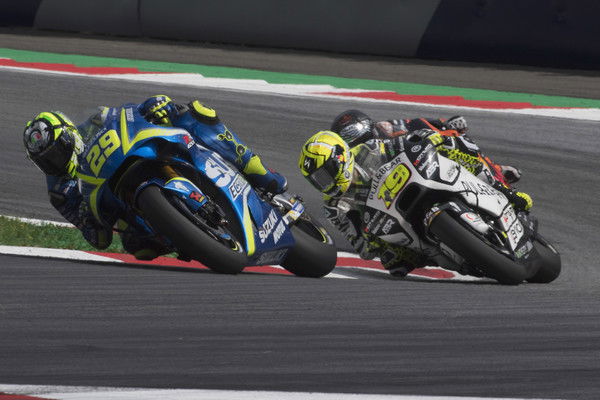 Perhaps this could be a potential opportunity for Suzuki to court their old protégé, Bautista, for an early 2019 deal...
Suzuki has almost everything it needs to take the fight to the big dogs in 2018. It has the bike which, in the right hands, is within touching distance of the leaders. It has the budget and the engineering ability to have whatever resources they need to give themselves a chance. But in MotoGP the rider is the one that makes all the difference and if Suzuki aren't careful they'll be toothless when the fight begins and will be torn to shreds by the opposition and left wondering how they got it so wrong.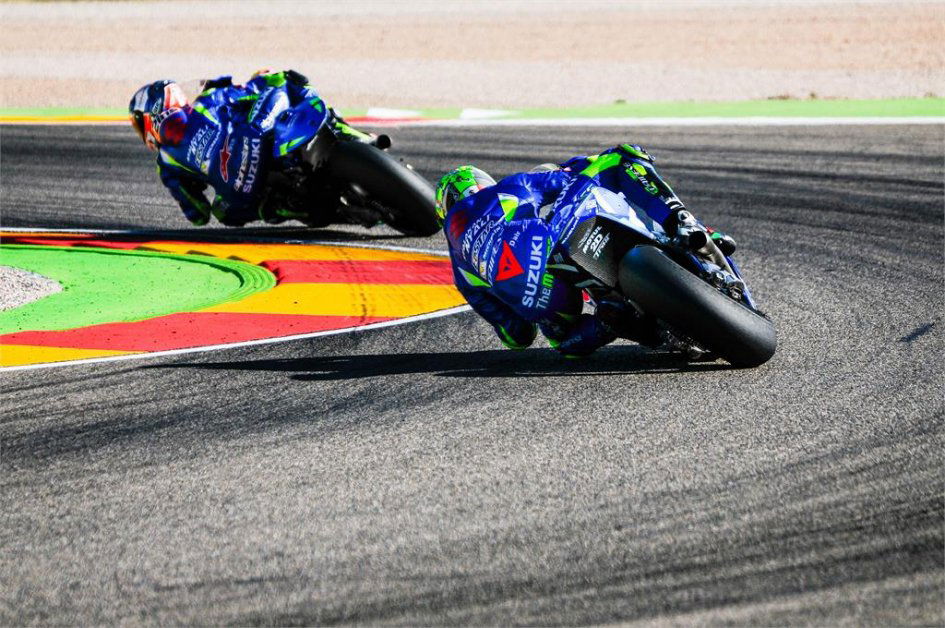 ---