---
With eight world titles in the last ten years, Marc Márquez has put himself in sight of becoming the greatest MotoGP rider in history, before he even turns 30. Today Stelvio Automotive asks the question, can he be beaten, and if so, by who?
By Sean Smith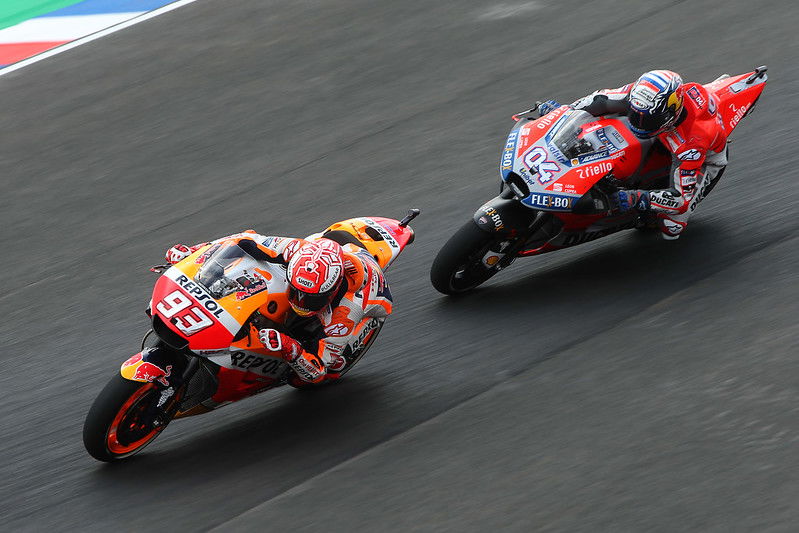 MotoGP has one of the most partisan fan bases in the whole of motorsport. Aside from Holden vs Ford in the Australia V8 Supercars, you won't find another crowd who are so heavily entrenched in their belief that the rider or manufacturer they're supporting is the best. Formula One may have Verstappen's 'Orange Army', perhaps filling a section of a grandstand, but that's nothing compared to the droves who come to see Valentino Rossi in MotoGP.
This has been in alignment with the far larger and more structured class MotoGP has become compared to how its previous incarnations (before 2002) operated. Compared to the F1 style singular works team and a feeder/satellite operation you see today, you used to get a slew of manufacturer backed privateer operations, each with different title sponsors. It wasn't until the late 90s that Suzuki began the singular effort trend which was to be copied by Kawasaki and Ducati when they entered the sport in 2002 and 2003, along with Yamaha and eventually Honda.
Today, MotoGP is a sport where millions, if not billions, are spent each year and, with its growth in popularity, has also come the new generation of professional riders, pushing the bikes and their bodies to the limit. Rossi's domination throughout the 2000s set the benchmark, but it was at the height of his powers, in 2008, that I first saw a young Catalan Spaniard, 3 months younger than me, first ride his 125cc KTM. I knew the moment I saw this 16 year old that he was going to do something special, and, my god, was I right.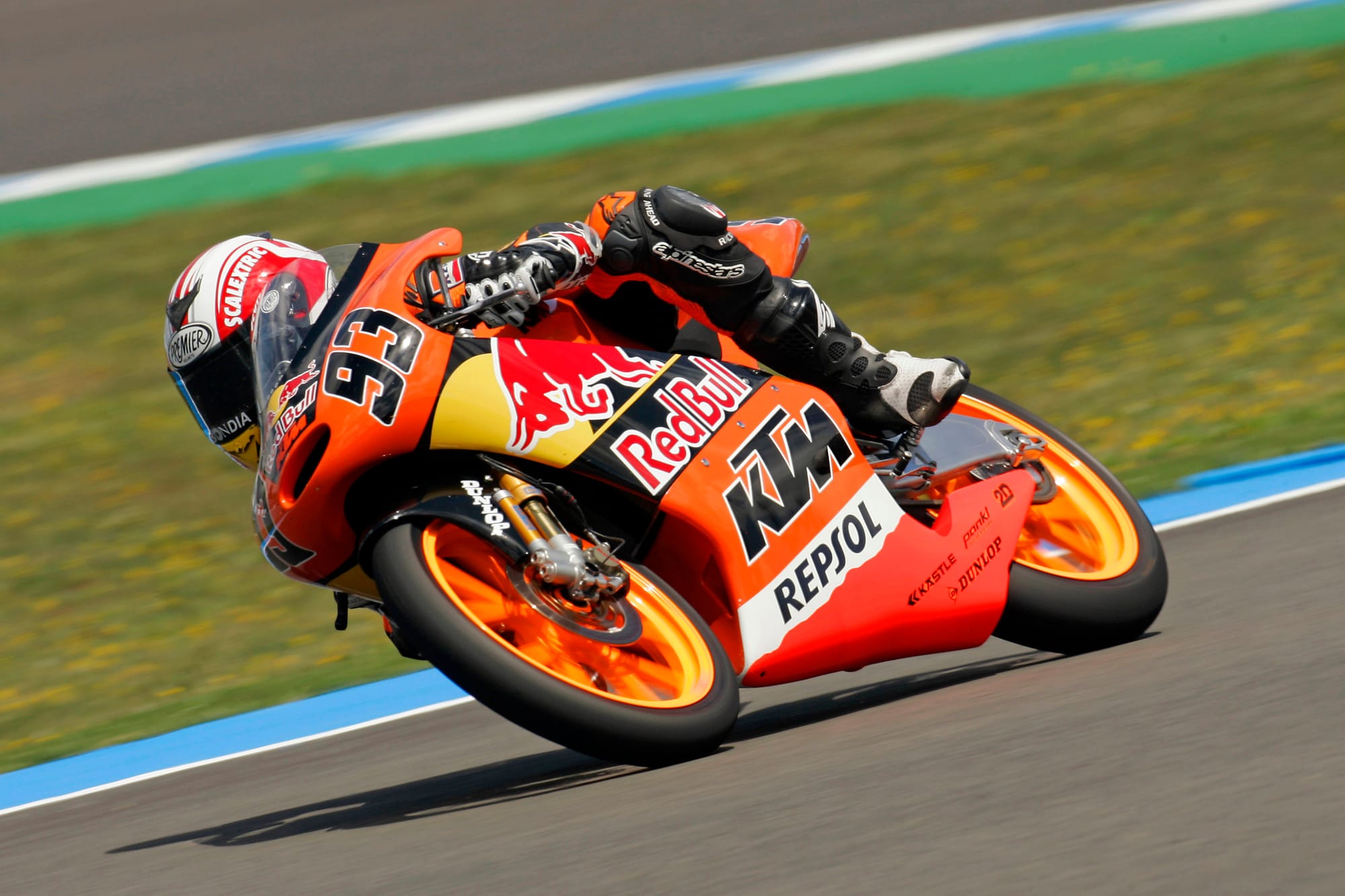 A podium finish in only his 6th race, another in his second year along with multiple strong results on a woefully out developed bike, a move to Derbi in 2010 with 5 consecutive victories from rounds 4 to 8 and 10 in the season, the first world championship was in the books at the age of only 17. The Moto2 class was next up in 2011 and, but for a crash which ruled him out of the final two rounds, he was on course to win first time of asking. 2012 saw that righted with 9 victories in 17 races and now, at the age of only 20, Márquez was making the big leap to Repsol Honda and MotoGP.
The rest, as they say, is history. Marc Márquez, paired with multiple race winner and championship challenger Dani Pedrosa, against the works Yamaha pairing of defending champion, Jorge Lorenzo, and 9-time world champion, Valentino Rossi, showed what the next era of MotoGP would look like.
An "elbows" out riding style, pushing the very limits of what a motorbike with only a few inches of rubber in contact with tarmac can do, a podium on debut, pole position and victory in his 2nd ever top class race, and even with a disqualification in Australia and a loss of 25 points to Lorenzo, Márquez was victorious, a MotoGP world champion at his first attempt. That was followed up in 2014 with Marc winning the first 10 races of the season and a successful title defence. There was a blip in 2015 where the Honda RC213V was decimated by the Yamaha M1 but, since then, Márquez has gone undefeated.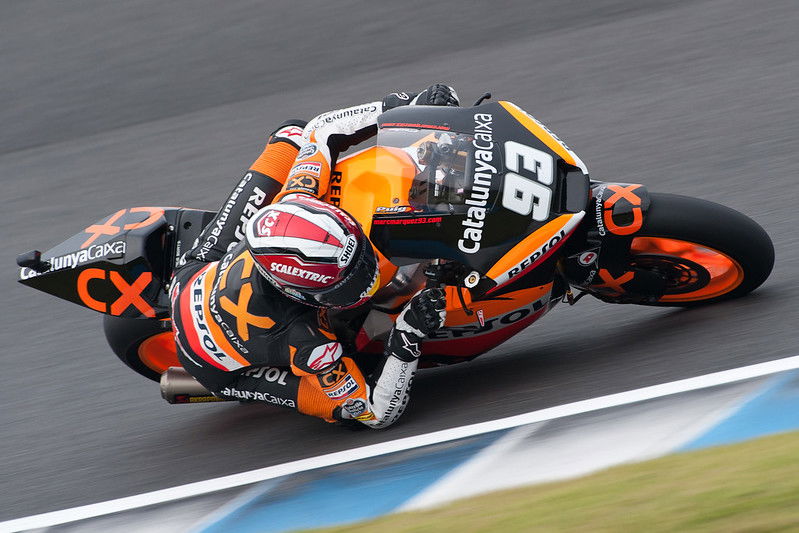 With the 2019 season now over, Márquez is an 8-time world champion (3rd most ever), an 82-time race winner (56 in the top class which is the 3rd most ever), a record breaking points scorer (scoring 420 points in 2019 and breaking Lorenzo's previous record in the same number of races), the best qualifier in top class racing history (62 pole positions in 127 top class races, 90 in his career), and he is now looking at the all-time records of Rossi and Giacomo Agostini which could be beaten in less than 3 years with Márquez's current trajectory, in other words, before he turns 30 in 2023, Marc Márquez could be the greatest motorbike rider, ever, without any equal.
The question then rises up as to who is going to stop him? Márquez has won 44% of all MotoGP races he has ever entered. This year, he had a single retirement at round two, but, at the 18 other races, his worst result was 2nd place, he won 12, was 2nd in 6. What's more impressive is that it clearly wasn't the bike which won him the title, as the next Honda was that of Cal Crutchlow, 9th in the standings on 133 points, 31% of Márquez's 420.
At the time of writing, Marc's younger brother, Alex Márquez, the new Moto2 world champion, has just been announced as Jorge Lorenzo's replacement, following the 4 time champion's retirement from MotoGP after only one year as Marc's team mate at Repsol Honda. I think Alex may be a good option, but, having watched his career, he's clearly not the same calibre of rider his brother is. He doesn't appear to have the raw pace Marc has, nor the consistency, but there is no doubt he is deserving of at least a chance. Regardless, I can guarantee that, if both riders are healthy and uninjured, Marc beat Alex easily over the 2020 season.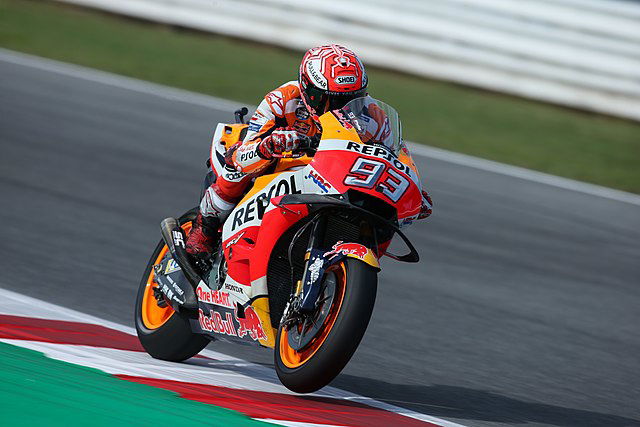 So we look to Yamaha. Rossi, as legendary as he is, will never be world champion again in MotoGP. As for Maverick Viñales, I thought he would be a challenger in 2017 when he moved over from Suzuki, but I was well off the mark. The Yamaha may have finally found some performance with Viñales in the final races of the year, but it is Fabio Quartararo I think who will pose the biggest threat in 2020. I would expect Quartararo to then replace Rossi in 2021 and pose a bigger threat there, but I think he will at least win races next year.
Ducati are a mystery to me. I said at the beginning of the year that I expected the GP19 to be that final step the Italian team needed to overhaul Honda, and indeed if it weren't for Márquez, Ducati would have run away with the riders, teams and manufacturer's titles. I don't think Andrea Dovisioso will ever be strong enough to fight to the wire against Márquez and I don't think Ducati will focus on Petrucci enough to give him a fighting chance, so for now that probably rules them out, again, assuming Marc remains healthy.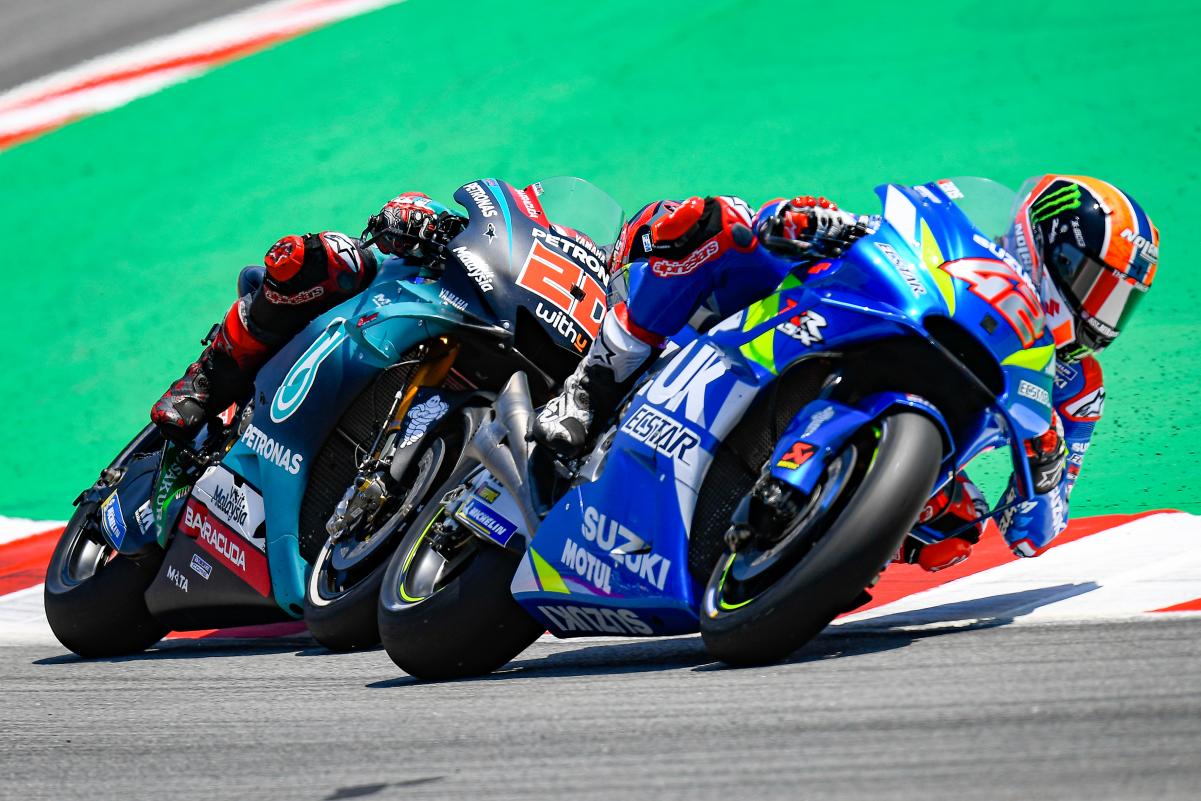 As for Suzuki, KTM and Aprilia, the only outside shot from these teams is Álex Rins on the Suzuki (above with Quartararo). He finished an incredible 4th this year and was victorious on two occasions, but I don't think the Suzuki is a fast enough bike to get it done, as much as I want it to be. KTM and Aprilia showed some improvement in 2019 but I honestly can't see them on the podium next year, let alone title contenders.
So in short, no, I don't think there is a meaningful challenger to Marc Márquez in 2020. The only scenarios I can see where Marc fails to equal Valentino Rossi's 9 world titles are injury, or the Honda suddenly becoming an unrideable bike. But even when that has happened before, Marc has gone back to the previous year's machine, hit reset and won again. The Honda RC213V has clearly been developed to work with Márquez's riding style and wants from a motorbike. It was the same with Rossi at Yamaha and Casey Stoner at Ducati. It's the way MotoGP is. Alex Márquez may surprise everybody, and good luck to him, but I truly believe that next year, and probably for the next three years to come, at least, we'll be seeing MM93 standing on top of that podium, and it will feel good every time knowing I was there to watch from the beginning.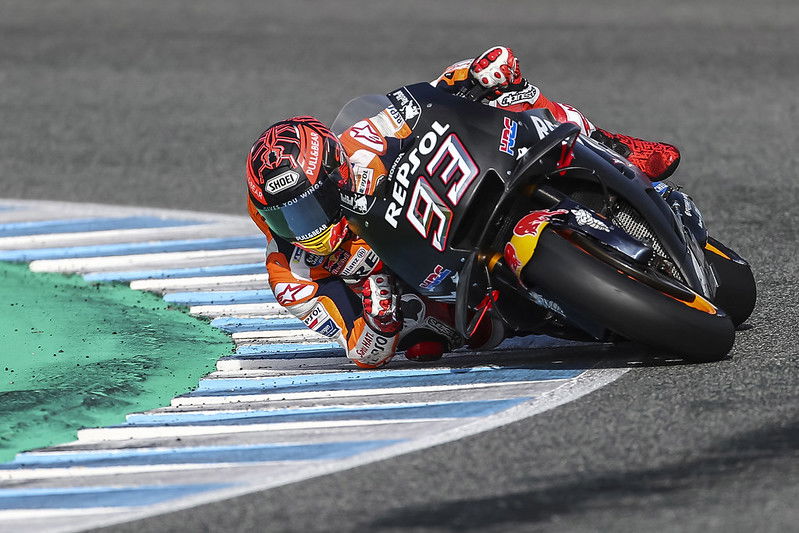 Stelvio Automotive – Article 93 - @StelvioAuto