Sam's Testimonial
So, now that I have calmed down from the weekend, I can finally reflect on my performance in the race, on my experience, and what I would do differently if I ever get the chance to race in one of these events in future.
Qualifying was quite difficult to start with as the track was slippery and the grip was almost nowhere to be found. On the first few laps I tried a few different techniques both from the way i drove the kart and used the track and soon, I worked out a line which seemed to work. Perhaps my track experience helped me here because from what i could see some of the other drivers were taking longer to figure out where the grip was by the time I was beginning to settle in.
With thirteen karts belting round it the track soon began to dry and required adaptations of my racing line, meaning I had to experiment further and find more time to stay competitive. A few things did not work, but as I tell my drivers when I'm coaching; "in qualifying you drive at 120%, because once you have a banker lap in, you're only racing for one lap at a time. Then for the race you scale it back to 98% to make sure you don't make mistakes".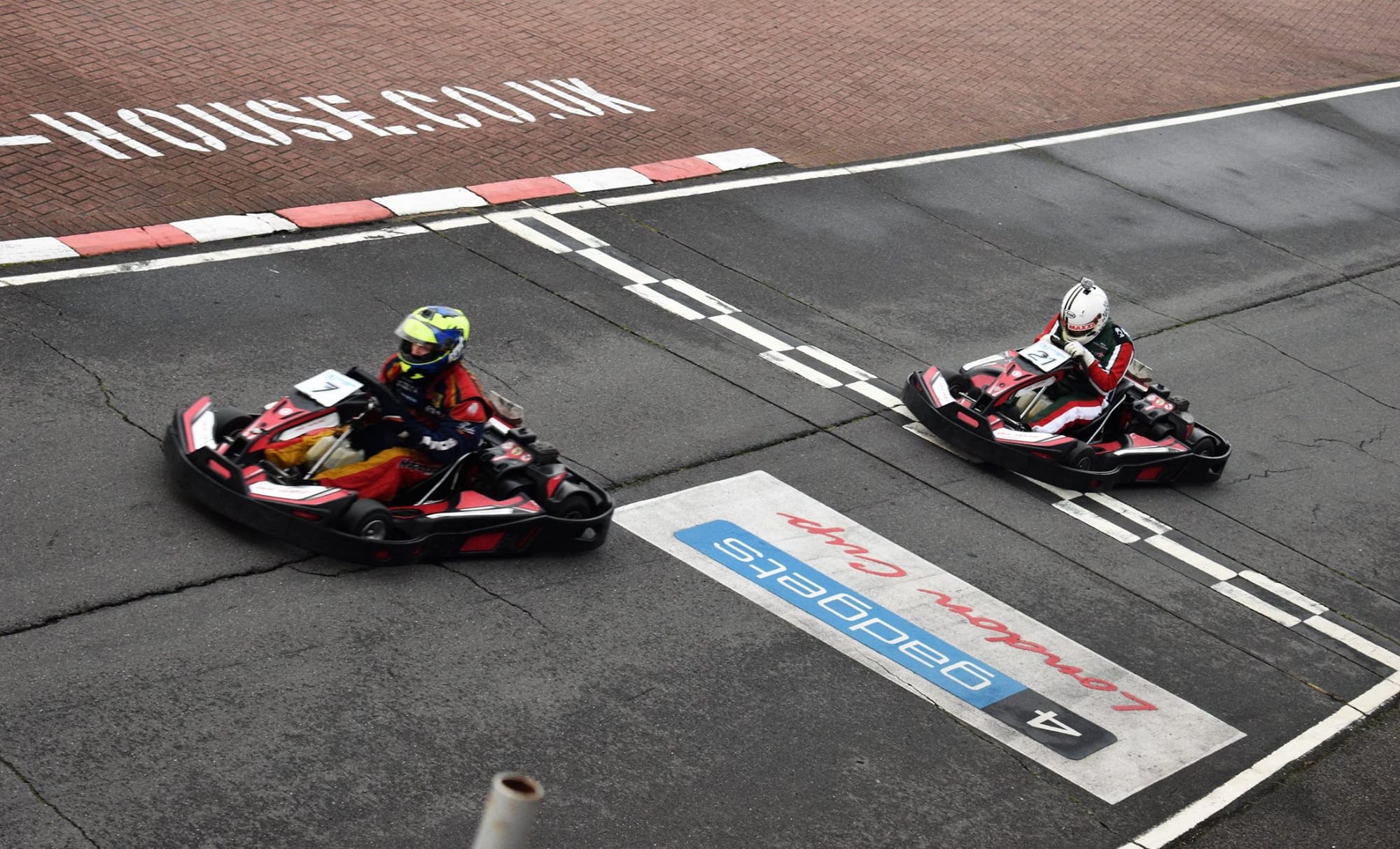 As the chequered flag fell on the session, I found I had qualified in 8th place out of the 13 competitors. This gave me some confidence as I was fully expecting to be right at the back. I knew a big hurdle was still ahead, however, as the race was to begin with a standing start. I was nervous. Being heavier than a lot of the drivers behind me, I was expecting to just go backwards when the lights went green. My heart rate at this point registered at an extremely high 138 BPM which is nearly double my resting rate!
As the lights went green, I realised that my expectations were correct, and I then got pinned on the outside line for Stadium (T1), in hindsight I would have tried harder to get to the inside as this would have given me a shorter, more ideal run into Elbow (T2). Having lost a couple of places on the start I did manage to fight back, finishing Lap 1 one place above where I started. The next 10 laps or so where pretty quiet, steadily making up ground and keeping drivers behind me.
This changed on lap 18, however, when I received some contact from the result of a desperate lunge by a driver behind me, costing me 4 positions and dropping me down to 12th. Fortunately, the marshals were doing their job and the driver who hit me received an ABC (Advantage By Contact) warning, which gave him 1 lap to give me back the position, which to his credit, he did. So now I was in 11th place and had work to do in the final half of the race to get back up the order.
It was around this time that I started to feel the first signs of fatigue setting in. These karts are heavy to steer and after more than half an hour you begin to feel the effects on your muscles which have been under constant workout. But! I have no doubt that my gym training and track practice came into play at this stage,. As some of the drivers ahead of me began to tire closed in, but as all racing drivers know, making up time and overtaking are very different things and it required patience and some strong nerve to make the moves stick.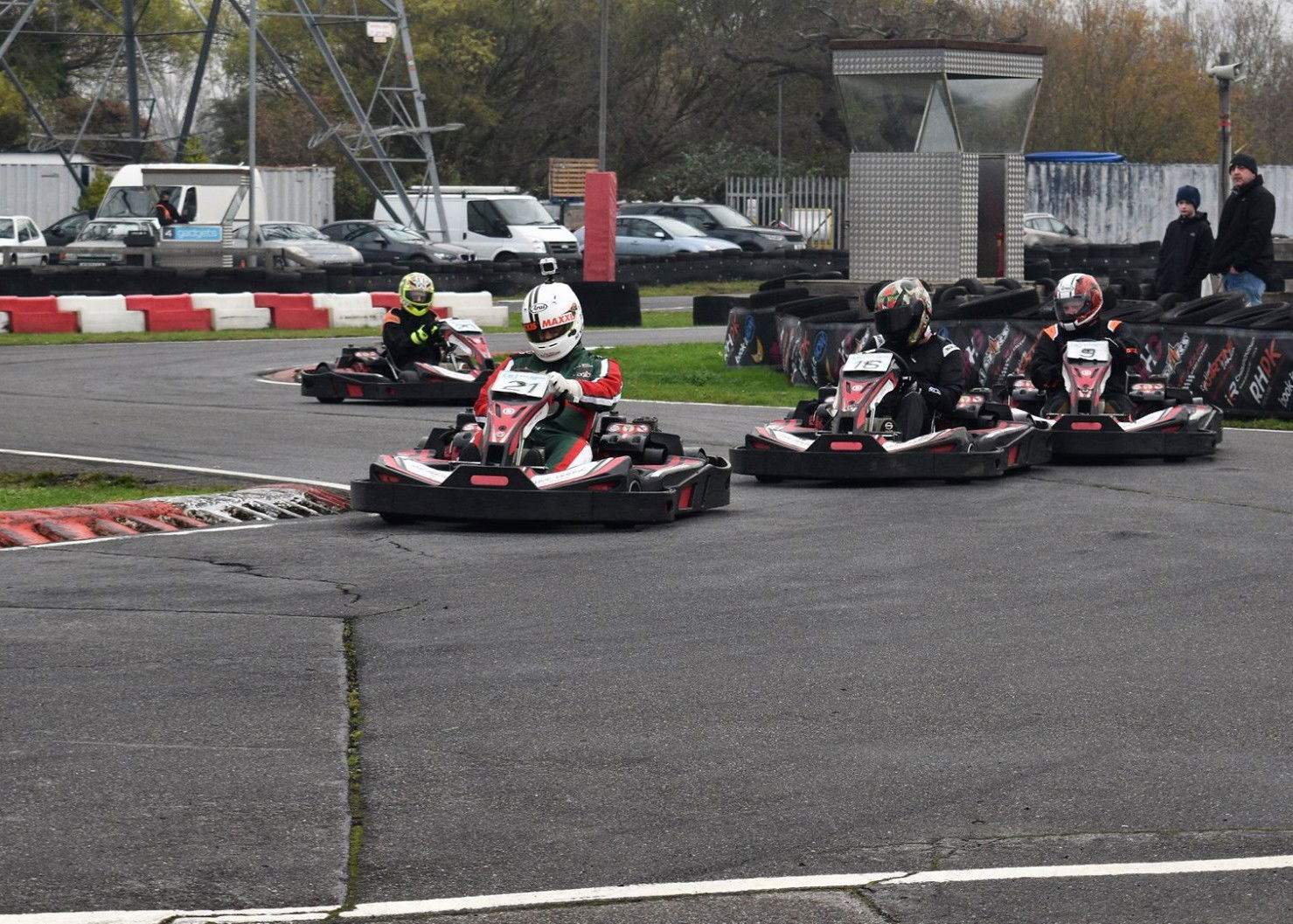 I managed to open up a gap to those behind me and I chased down my next target, who happened to be a driver I knew well, having coached her several times throughout the year. As I closed the gap, I could see that she hadn't quite got to grips with the new dryness of Stadium. I closed the gap there, as well as through the hairpins, but every time I closed in, she would pull away again down the straights. Annoyingly, this is something I had actually taught her to do, to maximise the corners leading onto the straights, this technique is used to emphasise the fact she is smaller and lighter than most of the other competitors and it stops rivals overtaking just as I was trying to do at that moment.
Eventually, I managed to put enough pressure on her and she made a small mistake through Hairpin 2, and I was able to out-drag her down Clubhouse. But, even in the midst of racing, the coach cam e out in me, after getting past I tapped the back of my helmet, which is karting code for "Follow me now, let's work together" this worked for a few laps as she stuck to me, but one lap I looked behind and she had gone, so I can only assume she fell off track somewhere, very easily done with the track conditions as the dry line was so narrow!
Keeping an eye on the pit clock to work out how long I had left to get it done, I decided I just needed to try something with the last few rivals ahead of me. So, as I came down the Clubhouse Straight into the Pylon Complex, I lined up a move. Through the Esses I gave it a go, venturing off of the safe, now dry line on the inside, onto the still wet outside, I kept the throttle pinned and managed to get on the inside for the Pylon 2 right-hander. A little bit of oversteer on the exit cost me a bit of time, but luckily the two trailing drivers were'n't able to capitalise and re-pass me down the straight as I defended the inside line.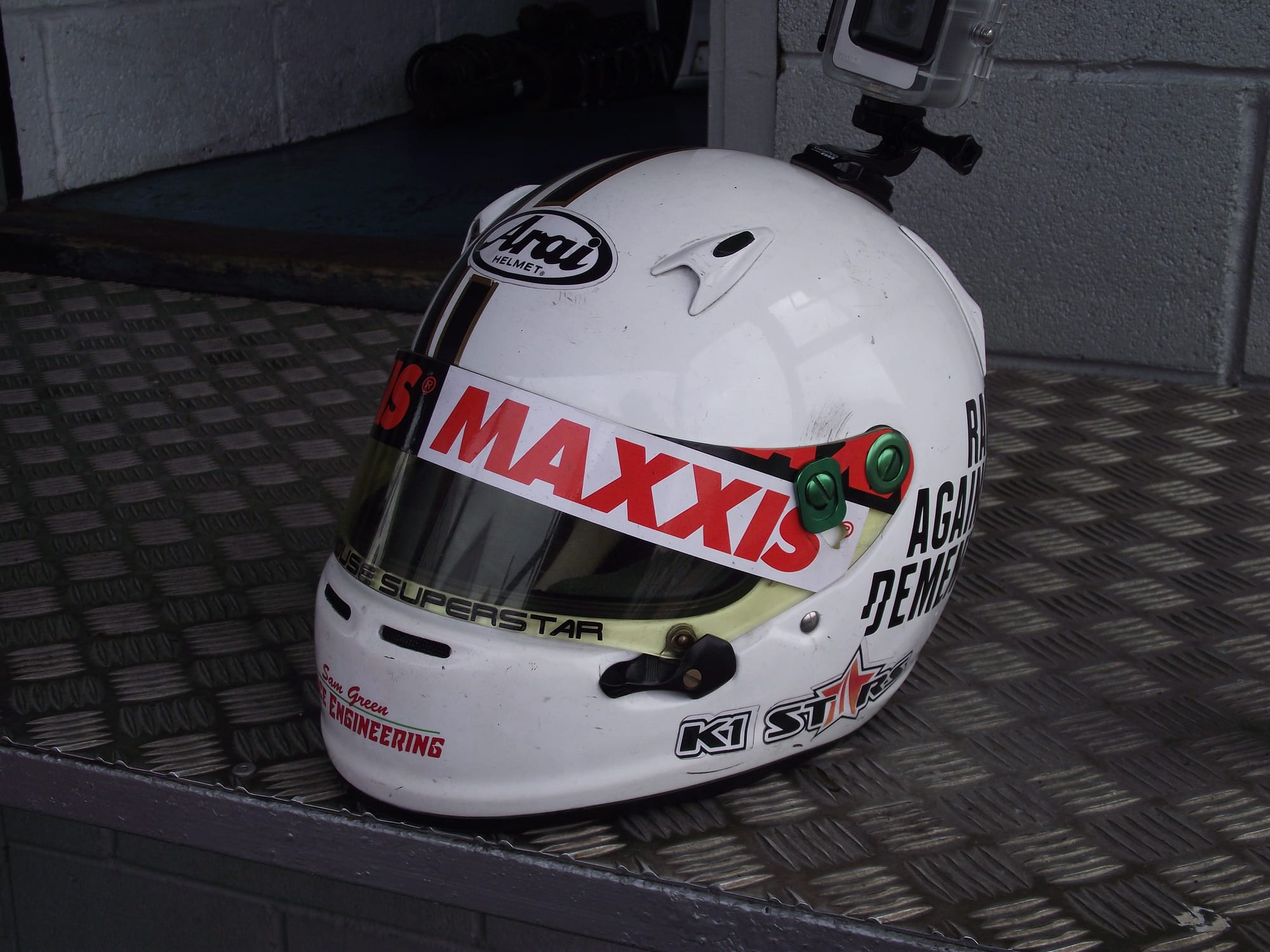 The final few laps were spent duelling with long time customer, and friend Wayne Edwards. Who had re-emerged just in front of me after a pit stop for a spare kart. Wayne was instrumental in me driving in the Lotus Cup, as well as one of the absolute legends who helped send me to my first F1 race earlier this year. He was much faster than I was, but his speed worked as a reference and I became faster myself. at the very end of the race his pace decreased and I took him before the chequered to give me 7th overall.
I am quite used to driving around Rye for an hour solid, but I got out of that kart a spent man. I had given it my absolute everything and was amazed that I had managed to hold my own against some seriously quick drivers. Will I do this again, time will tell, but I think if this does become a more regular thing, then further gym training will definitely be needed! I had fantastic support all the way through qualifying an the race from a number of my K1 Bambino and cadet drivers who had stayed after their testing morning to watch my race, so a big thank you to all of them.
Sean's Testimonial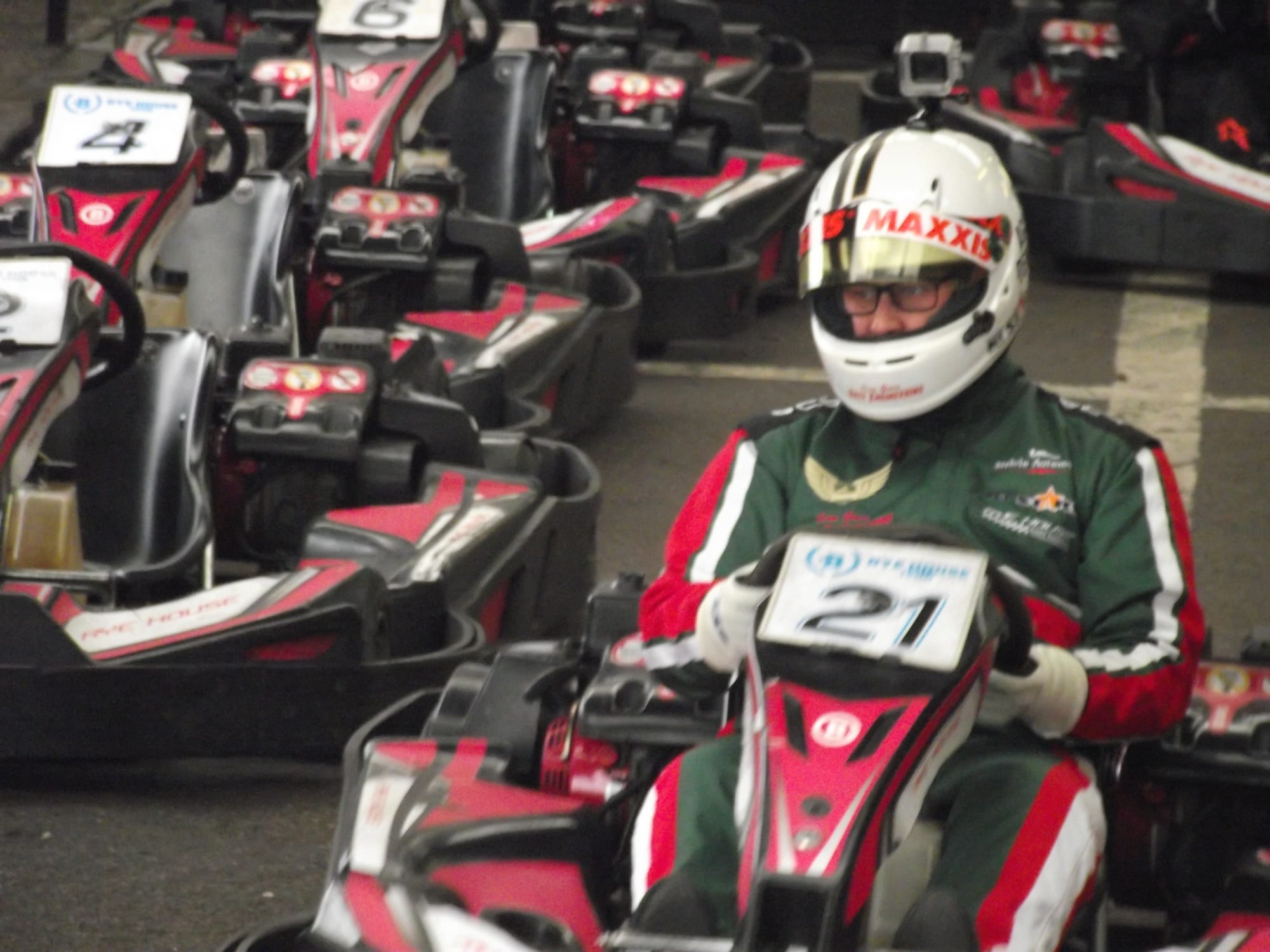 I was in two minds when waking up at the above mentioned time as to how the day would go. The temperatures in the warm and wonderful South had barely been above freezing all week and rain had been that of consistent drizzle mixed with small bursts of proper showers doing me the favour of washing my cars for free. I was in two minds because I had not kept track of if the weather was being replicated above the unofficial southern border of the M4 so had no real idea of if Sam's track conditions both of us would have preferred (he for track knowledge advantage, me to see more crashes) would actually be in place for the race.
The drive up the M25 gave equally inconclusive answers to my question. As I drove my Celica through bright sunshine, suddenly followed by heavy rain, followed by a last 20 miles of dry, cold air up to the gates to the circuit it was still 50/50 but, at about 8.30am, I got my answer. The track was wet! Parking at Stadium bend I enjoyed a good 5 minutes of watching the little Bambino drivers sliding and spinning on the almost icy tarmac and as the session ended it dawned on me that it was now a question of how the track would evolve over the next hour and a half which would make big difference for Sam.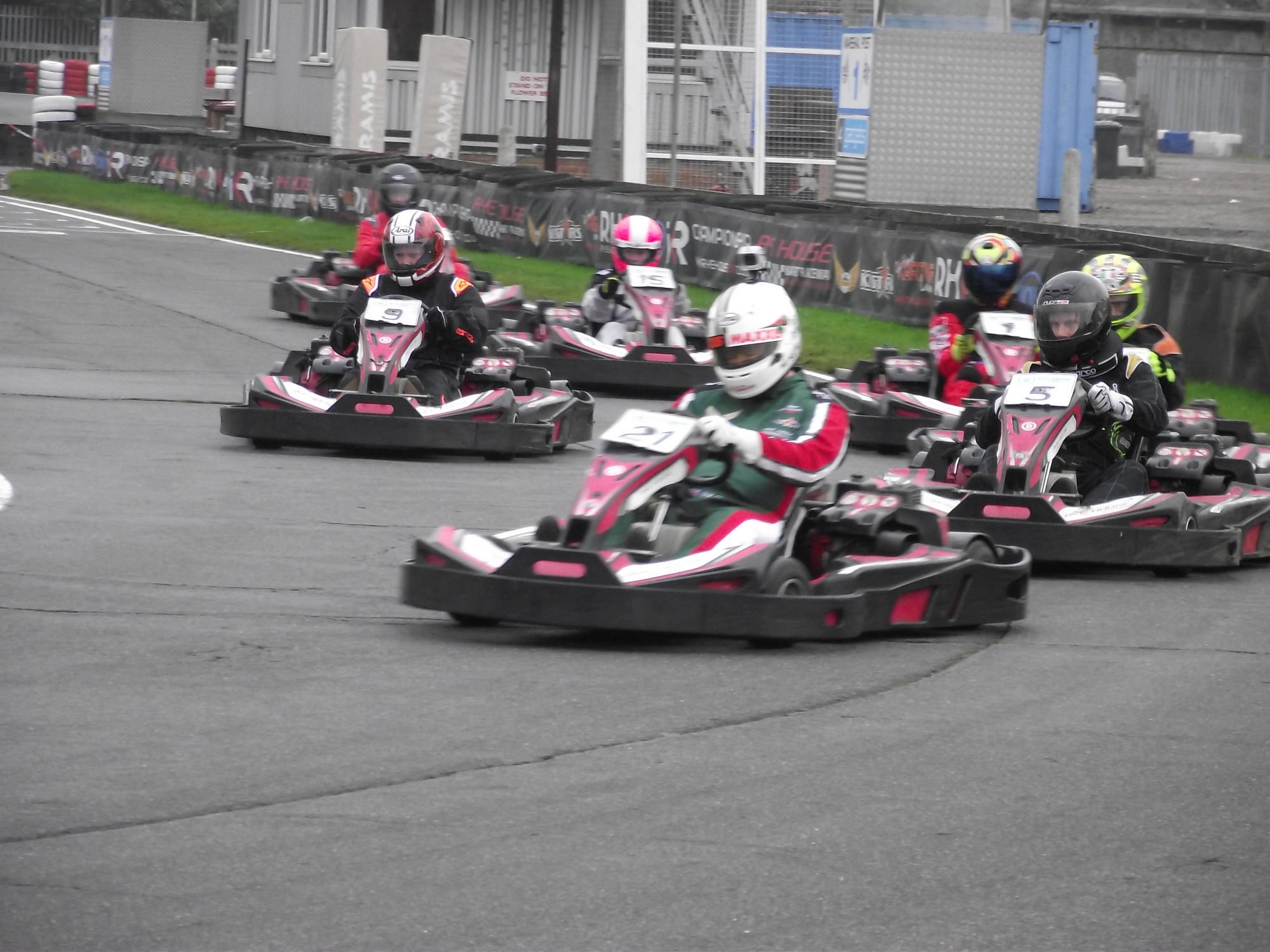 In the prelude I found the man himself hard at work with his driver coaching re-advising the young talents at his feet of the dangers and caution needed in the conditions they had just been out on. Soon after, up on the balcony while watching some Honda Cadets testing and evaluating how the track conditions were changing, Sam came up to show me the new overalls, emblazoned with Stelvio Automotive's logo, present as a sponsor of Sam's work he does with the young talents. All in all, it wasn't a bad ego boost for a Saturday morning. ;-)
Sam and I discussed the difficult areas of the track in the wet and how we could see the tarmac beginning to offer slightly more grip, soon though it was time for Sam to step down to the garage and take his seat in the number 21 kart.
The qualifying session followed and it was clear the track was in its transition phase; the karts were squirming under any breaking and it was clear which drivers were naturally more comfortable than others. Sam was one of them. The timing screen had more movement than a stock market as Sam, along with the other 12 drivers on track, would go to pole position then drop to 12th, go back to 2nd, down to 7th, up to pole again, lap after lap. When all was said and done there was approximately 1 second covering the field which had improved by around 5 seconds a lap over the 10 minute session and Sam had qualified in 8th.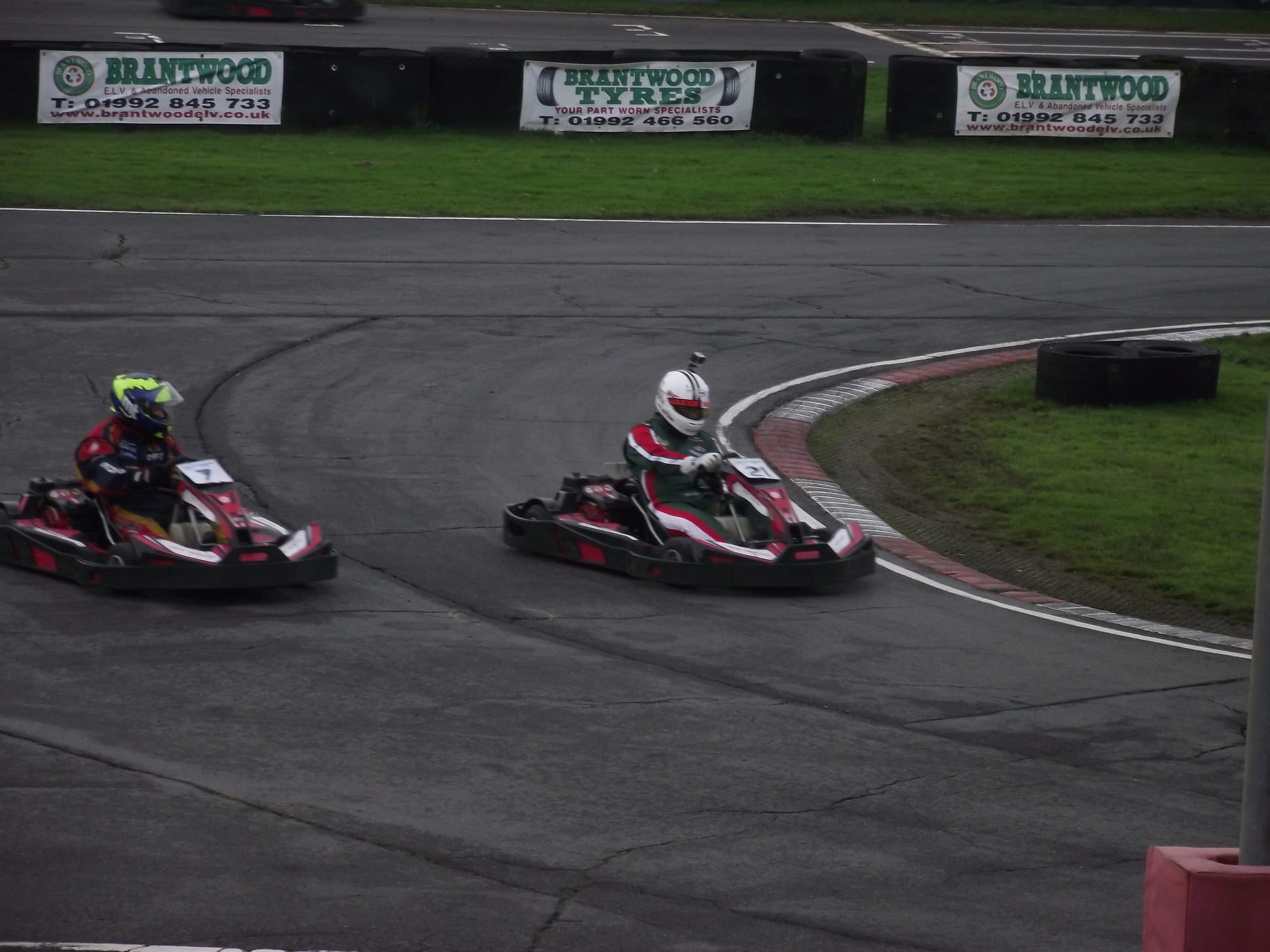 For the race I joined Sam's Rye House colleague, Shannon Thompson, to photograph the karts from the various spots around the track, and this is where I witnessed some great racing. This included the tightly packed standing start where Sam lost out initially but fought his way back into the mid-pack spot he qualified, through to the leaders battle for the podium spots with each car bumper to bumper. There were a couple of great fights from Sam's part as against opposition which made few mistakes he had to make some very decisive moves. Sam used his skills to great effect as he made up for a slight lack in top-end speed on the long straight with great corner momentum and bravery under braking.
When the chequered flag fell Sam came home 7th with the 5th best lap time, only a lap down from the podium battle for the win. From a sponsors and mate's point of view I think he did a fantastic job in what turned out to be almost dry conditions which he felt he would be disadvantages by over the regulars. His lap times were both quick and very consistent, his race craft was bold but fair and who knows what may have been if the heavens had opened above and Sam had had his preferred wet tarmac under him. It was a very good spectacle to watch and my congratulations go to both him and the winners for putting on what was a very professional and enjoyable racing show.